Well, our first round of campers is half way through their week away. Unfortunately it has been in the low 70s and rained half the time. I hope they are having a good time anyway. We go to pick them up Sunday, so I'll get the report then.
Now I have some pictures from the Pathfinder Fair that Troyer and Noah went to last month.
Here is the group marching in the line-up. They actually have 16 members in the group, but only 8 were able to go to the Fair.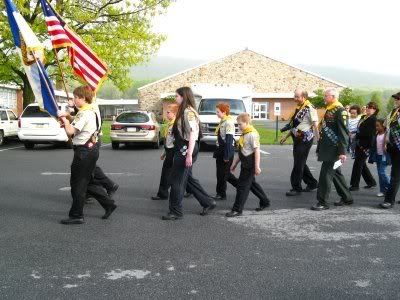 They participated in some competitions, which as a group they did pretty well. Two firsts, two seconds, and 2 thirds. After the events, for fun they do a Peanut Drop. Since the Fair is held at a school that is next to a small airstrip, the organizers arrange to have a small plane fly overhead and drop peanuts into a field. Some of the peanuts are marked, and if you pick one of those up, you can turn it in at the prize table and pick a prize. There is one *special* peanut, out of the thousands that are dropped, which is worth a free week of summer camp. Both boys were begging to go home early, each year they have been there they haven't been able to find any prize peanuts, so they didn't want to bother again. Well, I made them stay and look. Troyer was so funny, he headed out in the opposite direction of most of the other kids. There he was wandering around at the edge where few other people were. I kind of laughed to myself. Noah went right into the thick of the crowd, but he was unlucky and didn't find any again this year. Next thing I know I see Troyer walking towards me with an adult following. I jokingly said, "Don't tell me you won the week of camp?!" and laughed. Guess what? He did! Woohoo! with 4 kids going up to that camp this year, winning a free week was a big help for us.
The Winning Peanut