Today Noah turned 8 years old! We didn't have a party this time, since the baby is still so little, and I got partied out with the last two, lol. That's ok, Noah had a great day anyway. He made a deal with his dad that if he worked hard this morning at cleaning up the house, he could earn himself some extra birthday presents, so he worked hard and did a good job. Chris took him out to pick up the birthday cake and while they were out he got a few more presents (along with the card, that I had forgotten, oops! lol)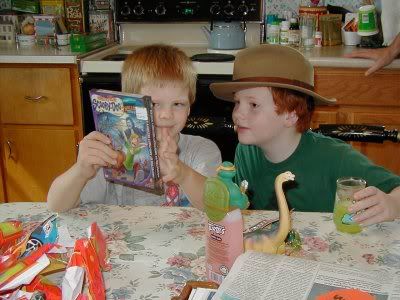 After lunch, Noah opened his gifts and then had his cake. He had asked for a cake at the bakery that he had seen months ago, and so I ordered it based on the name of the cake without going back to the book to check and make sure it was still there. Oops, they changed it a bit. Well, luckily Noah didn't mind at all, Phew!
He also got some mint chocolate chip ice cream to go with it. Yum!
He was very happy with all his gifts, including those from his aunts. This has been an unusual year, in that the aunts' gifts have all arrived in time for the birthday! Usually they wait until a visit and then bring them rather than mail them; I don't really mind that method, but it's nice to see a big pile of gifts on the table lol.
After eating, Noah came up to show me his loose tooth. He had not wanted to finish his piece of cake because it was bothering his tooth. I looked at it, and it was hanging backwards in his mouth, ick! LOL He didn't have the nerve to pull it out, so he asked me to. When I was his age, I could never have left a tooth like that in my mouth. I think I pulled all my teeth out early by twisting and wiggling them out, LOL. All I had to do was twist Noah's tooth around once and out it came :-)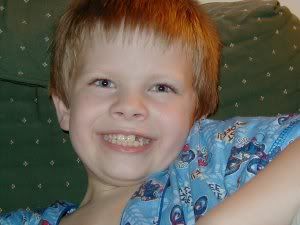 After playing with his Ninja Turtle Lair playset for a while, they all sat down to watch his new Scooby Doo movie. I got a great picture of all the boys together on the couch. Well, ok, it took about 7 tries, LOL, thank goodness for digital cameras!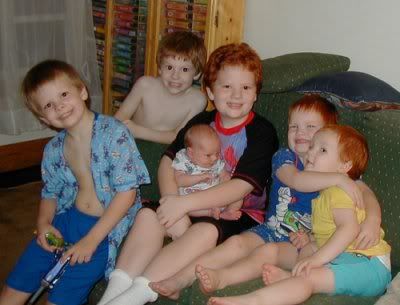 I also took a nice picture of Levi earlier in the afternoon. It is hard to get him awake and not crying if I am not holding him! LOL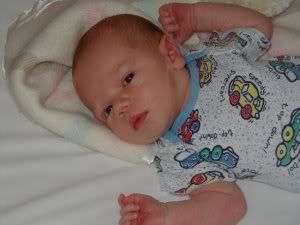 He is doing great, and it's easy to tell he's gaining weight. He is a very cute tiny baby now, instead of a miniature red-faced wrinkled old man, LOL