Chris brought home a bunch of stems last week. He bought some daffodils for Easter Seals, and they gave him 10 stems with closed buds on them. He felt gypped. I didn't feel much better. But I put them in a glass of water anyway, just in case. In a few days, this is what I got!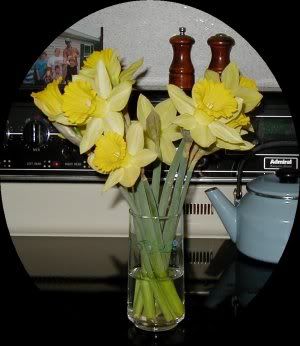 I have them sitting next to my computer, and they smell SO good!
A lot more of the flowers out front are blooming now too, they are so pretty. However, we haven't had enough warm days for me to completely get the weeds out, so they are still half hidden. Maybe it will warm up enough this weekend for me to get it done.