We had a nice Christmas this year. We had a big snow storm last weekend, and there was still plenty of snow on the ground Christmas morning. We hosted dinner this year, so I had a lot to do to get ready. Chris was great about doing all the cleaning and decorating, so I just had to do the usual shopping and wrapping, and plan the dinner. His family brought side dishes, so I just had to do the turkey and stuffing, and Chris made our usual holiday punch. Even so, I was up late wrapping, and then up early to get the turkey into the oven. The poor boys had to wait a little longer than usual to open presents, until I had the turkey ready LOL.
We use Christmas cards to decorate the kitchen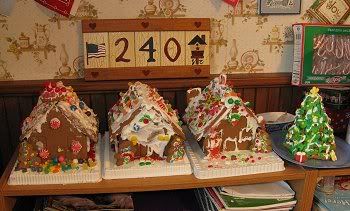 The boys made gingerbread houses while I was out shopping. I think they still need my guidance LOL.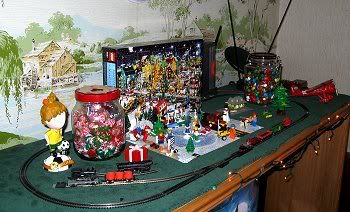 Chris decorated the top of the tv with his n-gauge train, and the boys had fun opening the Lego advent calendar this year. The candy jars had to be refilled almost daily!
More decorations: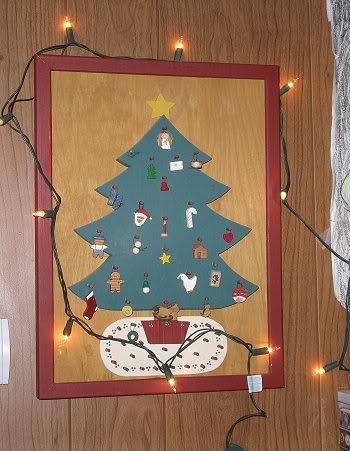 The ladder goes up to the loft, which is finished enough for Noah and Caleb to sleep up there now. We will be putting in a spiral stair this spring, so I can get up there too LOL.
Stockings stuffed
We started at 8:30 and were done by 11, enough time to get the rest of dinner ready. We were supposed to have dinner at 12 but it turned out to be more like 1, because the turkey was bigger than I had guessed. The tag with the weight on it was missing, so I guessed about 18 lbs, but it ended up being a 22 lb turkey - oops! Everything worked out fine, though, and I got compliments on my stuffing. :-) MIL usually makes hers from a mix but I did mine from scratch; she was impressed! I also made pumpkin pies for dessert too.
My Christmas breakfast:
We also had bagels and cream cheese and cinnamon rolls. Troyer also added left over pancakes. It's no myth how much teenage boys eat! LOL
Christmas dinner. The turkey was on the counter - it didn't fit on the table LOL.
Now the boys are happy with gifts, and I am ready for a long winter's nap!
Merry Christmas for 2009 and Happy New Year for 2010!