We made another run (actually two, I forgot the key the first time - Oops!) today, and it was a nice sunny day, so I got a few pictures. Of course I then wandered around the house thinking, OMG it is so small! What was I thinking? How will we fit? And then to top it off, the kitchen was littered with mouse droppings. UGH! I guess the sellers had been coming in daily to clean those up, so we didn't realize how much activity there was. I had assumed some, but obviously we will be setting traps and putting out poison. Yuck.
Also, it looks like I won't get my fridge tomorrow. We are due for a snow/ice/sleet storm all day tomorrow, so even if the delivery truck made it, there is no real way *I* could get there and back. I have rescheduled the delivery for Sunday. That will work, since there will be a lot of people there, helping move in!
Both of my sisters are coming, and bringing their families, so it will be a kind of family reunion, and we plan on having some fun once the work is done.
Ok, here is the house from the driveway: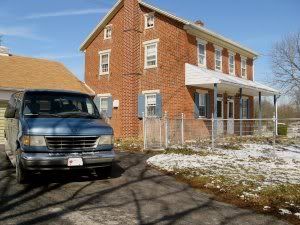 And here is a shot of the barn. It is very close to the house, which is nice and convenient. Not sure how much I'd like it if there were cows in it... LOL