We are not big Nascar fans in this house. We do not watch the races or track the drivers' points. I had to double check that the Daytona 500 actually WAS this weekend, LOL. However, on Valentine's Day, I gave the boys cards with chocolate Nascar candy stuck to the front. Troyer saved the plastic forms, intending to use them as molds, possibly for clay. Last year he molded some cars, put the foil back on them, and used them on his birthday cake. This year he came up with the idea of using them for Jello. His idea just happened to coincide with the opening of the Nascar season, so I said, "Go for it!"
And so, we celebrated Nascar Day on Sunday, with lime Jello race cars. Personally, I thought the whipped cream exhaust was the best part! LOL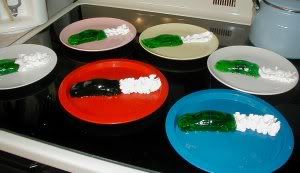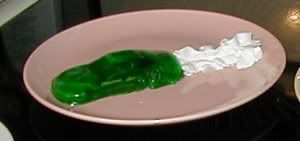 And by the way, trying to get Jello jigglers out of plastic molds is a bear! Much harder than getting it out of a metal pan.