2 weeks ago, I drove my Pathfinders and Adventurers over to Hamburg for the Pathfinder Fair. It is usually held outside, but this year it was chilly and rainy, so most of the events were inside. We were told to be there by 8, but of course, they are never ready on time, so there was a lot of waiting. Line up for the parade was supposed to be at 8:30 but since it was inside, and therefore the parade was obviously much shorter, they had line up at 9. Of course, even then there was a lot of standing around and waiting.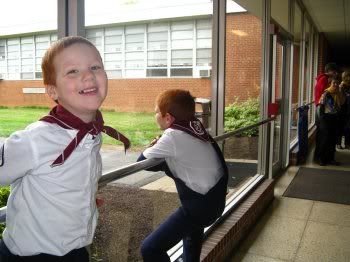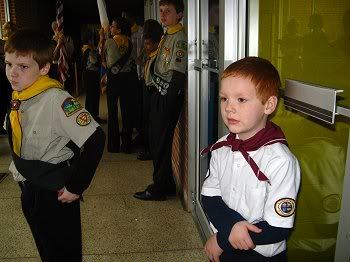 Micah and Caleb were the only Adventurers to make the trip, so they carried the banner. We have 10 kids in the club, but I guess the other parents didn't think it was worth the trip for the younger kids. I'm not sure I would have gone if I wasn't also bringing the Pathfinders, whose presence was mandatory. Hmmm, some of the Adventurers who weren't there do have older brothers and sisters in Pathfinders. Hmmm.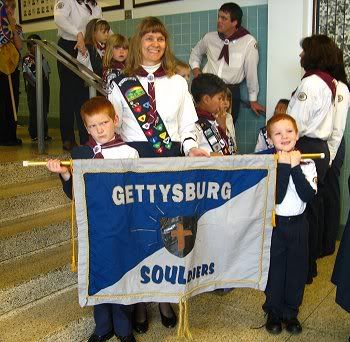 Finally, the parade started; it basically consisted of marching into the gym and lining up. It was hard to fit all the clubs in!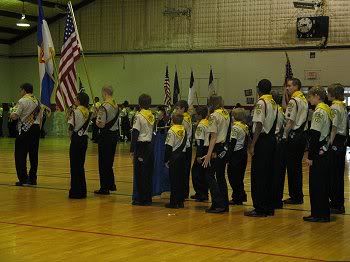 Noah and Samuel are the two shortest Pathfinders. Although, they are NOT the youngest. It is starting to bug Noah a lot.
After the parade, the Adventurers went to another building to do their games and contests, while the Pathfinders stayed in the gym. I had to go with the younger ones. They had games like sack races:
and compass puzzles: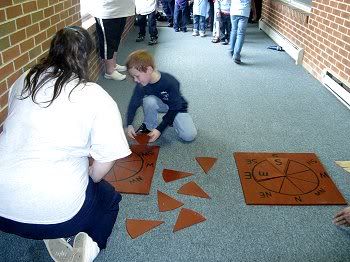 and at the end, they did a peanut drop. If you remember from last year, they usually do a peanut drop outside in a field, and all the kids race out to find the specially marked peanut that will win them a prize of a free week of camp. Last year, Troyer found the winning peanut. I had hoped we might be able to repeat our luck! But since it rained this year, they tried to do it in the gym. There were about 40 adventurers there, plus parents. It was hard to fit into the gym. The peanuts also don't hide so well on the bare floor. Can you guess what happened?
Here is Micah lined up ready to collect peanuts. He really just wanted to get a bag full to eat LOL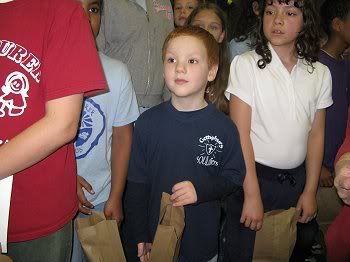 And here is the mob trampling each other to get to the *really obvious* special peanuts. Ugh.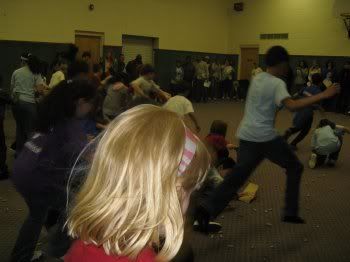 Micah cried because everyone trampled the peanuts just to get to the painted ones; Caleb sat down and stuck out his lip because he was pushed over in the first 3 seconds. I'd say, it was a bad plan to do it in the gym. Our leader was really nice, though, and did her own peanut drop at the next meeting at home, so Micah and Caleb could collect up peanuts to eat. :-)
I didn't get to see Noah and Samuel compete in any of their events, but it was just as well, as they didn't do very well. This club doesn't seem to try so hard to win the events; they don't practice as much as the old club did. The clubs set up tents and sell food for lunch, too, as a fundraiser. Last year our club sold pies. This year this club sold chilli and hotdogs, and ice cream floats. I think they did pretty well, though the weather might have slowed sales a bit.
I was hoping that we'd get to leave for home a little earlier than last year. Last year we didn't get done until after 3, but it was worth it since Troyer had won his free week of camp. I thought this year with no peanut drop in the field, they would let us go early, but no such luck. It was still after 3 when we left. Instead of the peanut drop, they offered an essay contest to win the week of camp. I have a feeling my boys are not going to win this year, since the essays are due today, and they haven't written them yet LOL. Also, they are supposed to write "why I should get a free week of camp" and I have no better reason than the fact that I am sending 5 of them to camp this year and it's a lot of money! We are not suffering financial hardship to the extent of a lot of other families this year, so I almost feel guilty trying to take that chance away from them. But then again, the peanut drop was incentive to come to the fair, not a scholarship based on need.
So after staying past 3 for no real reason, we finally headed home. We got home safely, and the weather never turned truly nasty, thank goodness. I got to drive our "new" car, and I love it! I want my own.... LOL.