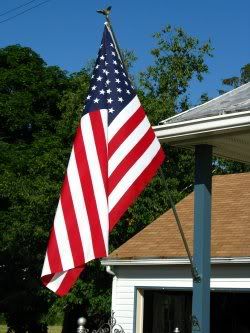 Summer is here, though the weather has been very mild. It's pleasant, but the boys haven't been longing to get in the pool like they usually do. We've been busy doing nothing, as it should be in the summer. June started the camp rounds; Caleb and Micah up first, then Noah and Samuel, and finally Troyer. Troyer just got back yesterday. We have a week off before swimming lessons start for 2 weeks, and Troyer will be attending Art Camp. VBS also starts next week, and I have volunteered to help out. (and the town over from us is having theirs this week, if I want to send the kids to that too)
Troyer and Noah have both been recruited by Chris to take over mowing duties. Troyer drives the John Deere, and Noah drives the Cub Cadet. Chris is left to do the trim work.
While Caleb and Micah were at camp, Troyer asked me to take him to the Arts Festival in Gettysburg. He was a little disappointed that it wasn't a bit bigger. I'd love to take him up to the Arts Fest in State College, but that was the same week he was at camp. It was fun to be back on a campus for a little while. Gettysburg's campus is very pretty, and the weather was perfect.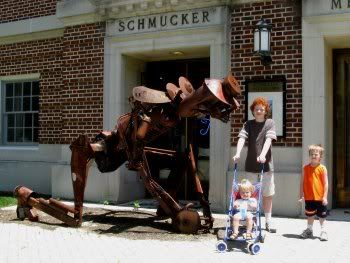 They had a wall with window-frame shaped art splatters that made nice frames for the boys!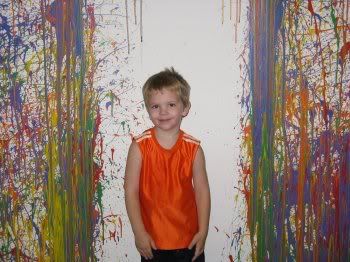 Here's some new shoes I had to buy for myself:
I needed them because I stubbed my pinkie toe, and it swelled up so badly I couldn't put shoes on. I have sandals, but they all have straps across the toes. I didn't have any flip flops! I think I might have broken the toe, but without an x-ray I can't know for sure, and since the doctors won't cast or splint a dumb pinkie toe, I didn't bother going in.
We went to my in-laws' for a 4th of July picnic. The weather was almost too chilly because of the breeze, but at least that kept the bugs away! The boys got to play with some cute kittens. They are a few weeks older than our kittens, who are too young to play with yet.
Here's a picture of our cat with her new babies: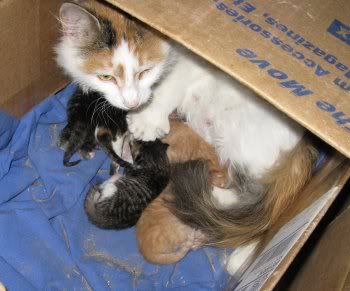 They are 4 weeks old now, so much bigger, and just starting to crawl out and explore.
Our neighbor came over last week and gave us all a hay ride. He is a farmer, so he has the big size tractor and full size hay wagon for baling. He picked us up at our house, stopped at another house to pick up another family, and gave us a ride for over a half hour, on the roads around our house. We had a lot of fun, and I got to see some areas I haven't driven down yet.
Here is the tractor baling hay in our backyard last week: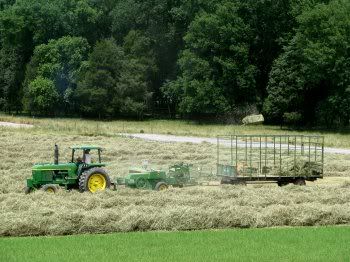 Lucky for us, the baler wasn't attached while we were riding in the wagon LOL. Can you see the bale of hay flying through the air to land in the wagon? The boys loved to watch them. The baler actually makes a real "boing" noise when it shoots the bale out, just like in a cartoon LOL.
Samuel had his birthday last week, too, though we waited until today to celebrate with cake and presents, so that Troyer could be here too. Samuel prefers homemade cakes to bakery cakes, so we baked an orange cake with lemon icing this morning. We used orange extract to make a yellow cake orange flavored, but the taste wasn't very strong. Most recipies call for orange juice, but we didn't have any. I tried using orange gel icing to decorate, but it came out all runny. Samuel wasn't too upset. He likes to mush up his cake when he eats it anyway LOL.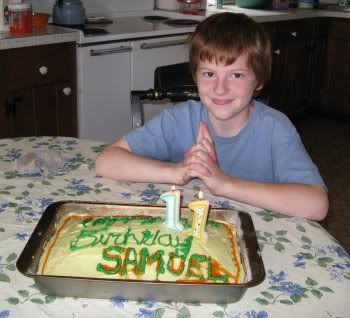 Samuel is still collecting dalmations, and he was thrilled that Toys R Us had restocked the Animal Alley puppy they had sold years ago:
I also got him a little Ty beanie:
He got a Ninja Turtles DVD and some legos, too.
Here is the peanut gallery, waiting for the movie to start:
Chris has been playing softball with a church league for a few months, and I took Levi and Jacob to watch a game.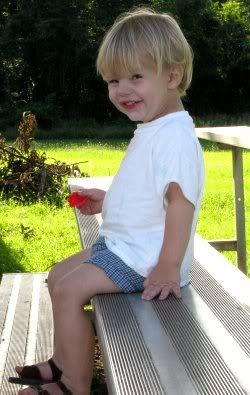 Believe it or not, I have even more to write about, but I haven't gotten the pictures uploaded yet LOL. Hopefully I'll get it done soon.