After I picked up Noah and Samuel, I made a spur of the moment decision to take the boys to see Thomas the Tank Engine at the Strasburg Railroad. Noah made a big fuss about it being for babies, and I realized Caleb wasn't home to go along, so I postponed it for a day. I dropped Troyer and Noah off with MIL and exchanged them for Caleb.
We got an early start to the day, because I hadn't been able to order tickets for the train ride online, they were sold out already, so I wanted to get there first thing to buy tickets from the counter. The website said they had limited amts of tickets available at the event. I was dubious, but I hoped that it would be fun even if we didn't get to ride on the train. We left just before 8 am, and had to take a major commuting route through two large cities (ok, large for *this* area, not major metropolises or anything). I hoped to get there by 9, but guessed that it may take longer because of it being rush hour, and also in case I missed a turn or something.
We were lucky, it really did take only an hour, so we arrived just at 9 am. We got a parking spot right in front, I couldn't believe it. Apparently not everyone with toddlers either plans well enough or is able to get out of the house so quickly, LOL. We found the ticket counter first thing, and bought tickets for the 10:15 ride. That way we would have the rest of the day to explore all the other activities. I was so happy that we were able to get an early train.
I took the boys over to have their picture taken in front of the train. This one was so much better than the last one I went to, in Ohio over 7 years ago. That time they had just a shell of an engine painted like Thomas. This one was a real working engine, which I thought was really cool. Samuel and Caleb got all the way to the front of the line and then decided they weren't going to have their picture taken. Thank goodness there was no obligation and parents were also allowed to take pictures at the same time, because I grabbed the kids and pushed them onto the bench and took a few quick pictures. No way would I have paid for this: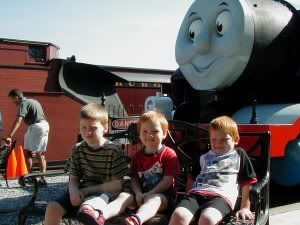 Micah, on the other hand, was so thrilled with the whole thing, he jumped right up and posed. Luckily he was oblivious to his brothers' reluctance.
After the pictures, we wandered around a bit while we waited for our turn to ride the train. All the little rides were free, or rather the cost was included in the price of the train ride ticket, so we wanted to see what else there was to do. There still were hardly any lines yet. Samuel and Caleb went on a ride where they could crank themselves around a track. Micah wasn't strong enough to get himself around, so he waited with Levi and me. We found one toy store open already, and spent some time inside browsing, and then it was time to line up for the train ride.
Caleb and Samuel were still grumping, but Micah was excited. He didn't like having to wait on line. Luckily we didn't have to wait more than 10 minutes. I did have to leave the stroller behind at the line entrance, and I hated to do that, but there was a huge group of strollers there, so I figured I'd have to be as trusting as everyone else. I thought about leaving all my junk in the stroller and just bringing $, keys, and id, and my camera, but since I was carrying Levi, it ended up being too much to carry, so I took along the whole diaper bag. I had so much stuff in it that it took up as much room as Micah, lol.
We boarded the train, and soon we were off! It was a simple trip straight down the track for 10 minutes, and then reversing direction and coming back again. The train didn't really pick up much speed at all, but the boys had fun. I think seeing all the people at the road crossings waving at the train made it even more so.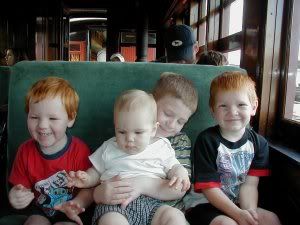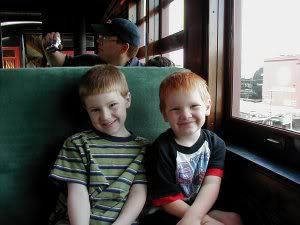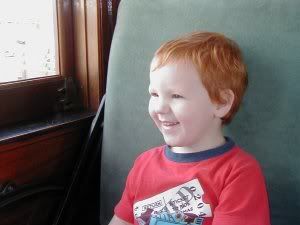 After the ride we picked up the stroller, which of course was fine, and walked down the the hay bale maze. We had seen this out the window of the train and the boys wanted to do that next. On the way I bought a huge lemonade and a funnel cake. The prices were waaaaay too high, but hey, when else do you get the chance to buy funnel cake? The boys never got that hungry, so that was all the food I had to buy all day. They had a great time in the maze: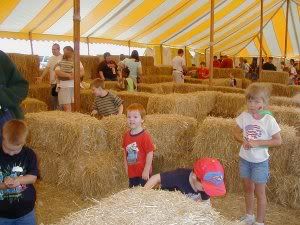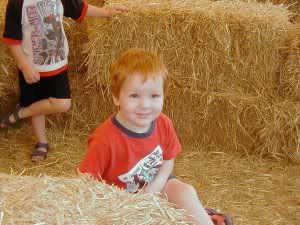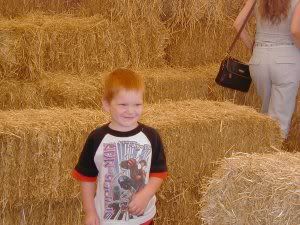 They went through at least 5 times each. I got a little nervous with them running from exit back to entrance while I watched, and the 3 started splitting up since Micah was slower than the others, but I rounded them all up again and took Micah over to the tatoo tables.
When MIL took the boys a few years ago, they had face painting, which was really cool; I'm not sure why the difference, but I think I like this better. The tatoos are the usual kiddie sticker you apply with a wet sponge. Micah was the only one who wanted them, but he loved them. They stand up to quite a bit, too, they are still looking pretty good for a week old: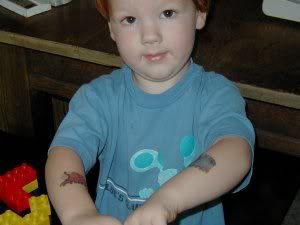 After that we went on some more little rides. I had to go on all of them with the boys because they all said children under 6 had to be accompanied by an adult, and only Samuel was over 6. Each time I had to leave the stroller behind, and I just hated it. I did leave the diaper bag hanging on it one time; I noticed a lot of strollers with bags in them left along the lines, so I thought it would be ok. That particular ride was pretty crowded and I couldn't take up an extra seat with the bag. I got so nervous for the whole ride though, that I didn't do that again.
They had one tent set up with Thomas toys out on tables so the kids could play, which was nice, though nerve wracking trying to keep track of the 3 of them each running from table to table mixing in with all the other little kids there. Micah especially seemed to blend in too well. Lego has just come out with a new line of Thomas and Friends Duplo sets, so they had a really cool giant Lego Thomas. It really was made out of Duplos and Legos. Troyer and Noah were a bit disappointed to have missed that, lol.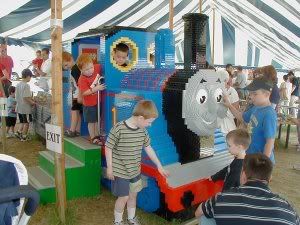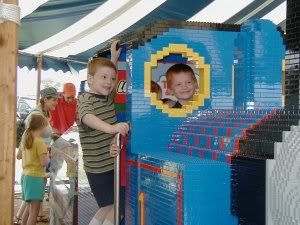 We did pick out some things to bring home; I got 2 sing along tapes for in the car, and a glow in the dark t shirt for Caleb. Micah already has 2 Thomas shirts that are hand-me-downs, so he didn't need another, and Samuel didn't want one. The boys of course begged for toy trains but honestly, there isn't much we don't already have that I'd be willing to pay for. So much of that stuff is very expensive, and we don't need more junk stuffed into this house! I did find a really neat unit study pack about the transcontinental railroad, so I bought that for the start of school next year.
By 12:30 Levi was getting pretty grumpy. He was tired of water and graham crackers, and wanted some milk and a nap. I found a bench under a tree and nursed him and he fell right asleep. The other 3 were super bored waiting, so I suggested that since it was lunch time and we'd gone on most of the rides that didn't have lines that were too long, why didn't we just call it a day and head home, and we could stop for lunch on the way. They were a bit disappointed but I just couldn't take standing on another line holding Levi and leaving the stroller behind, and they were ok with it. As we headed back to the van, I couldn't believe how crowded it had become. Not only was the lot I was in full, they were parking cars out in a field and shuttling people in. Wow! I am so glad we got there early.
We got to the van and found ourselves parked next to a Jaguar. Bad enough to try to load kids into a van without letting them touch the car next to you, but this had to be a $$$$ car. Plus, the family was still in it! The grandmother had a pillow in the front seat and was sleeping. Ugh ugh ugh. Of course these were not pull through spots so I had to back out, but I was so close to that car that I had almost zero turning room. I backed in and out and in and out until finally I flagged down a dad who was going to walk behind us, and asked him to please guide me out. He was so nice to help out and we got out without incident. Whew!
We stopped at McDonald's on the way home, and were home by 2. It seemed like a short day, especially considering how much money I spent, but I decided it was ok, because we never got tired and were still in a good mood all the way home. Levi fell asleep and Micah did too for the last part.
I am so glad we went; I almost chickened out when I couldn't find another adult to come along and help out, but I was brave and it all worked out. The weather was beautiful and the kids had fun, and I didn't lose anyone or anything, lol.