On Labor Day we headed to MILs for a picnic. Chris misunderstood what time we were supposed to be there. He thought she told him "anytime after lunch" so we showed up at 2, after we ate at home, but she had meant to come for lunch, so we missed the food. We ended up having leftovers, which was fine.
Micah in "his" chair, which Levi also liked:
Caleb and Aunt Shawna:
Troyer: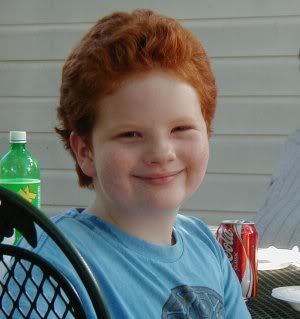 Levi:
He had fun walking around the deck, trying to climb up in the chairs, trying to get into someone's purse, trying to drink cans and bottles of soda, and eating cat food, LOL
The weather was beautiful, and the boys had a great time playing outside. Noah was trying to climb some trees, which started a contest to see who could get highest. First his aunt climbed up, to show him how to get in the tree, then Chris climbed up, then his Uncle Mike. Aunt Shawna and I decided to stay on the ground LOL
Chris in the tree:
Eventually Troyer and Samuel learned how to get up too, and even Caleb found a tree more his size:
After we ate, Chris took Troyer and Noah for a bike ride. They are getting pretty good on the road. I think they rode almost 4 miles. Troyer was beet red when they got back, lol. He needs a bit bigger bike, because his knees were almost up in his chest.
Micah wanted to go on the ride too:
Heading out:
Noah took off as soon as they were out of the driveway: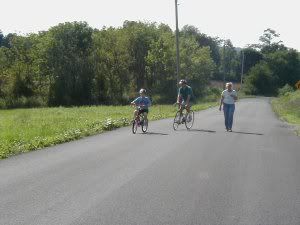 While they were bike riding, the SILs and I took Caleb, Samuel, Micah, and Levi for a walk down the street.
Caleb rode his new bike that Grandma and Grandpa bought him: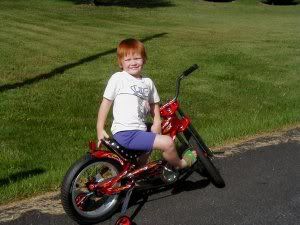 Samuel helped push Levi in the stroller: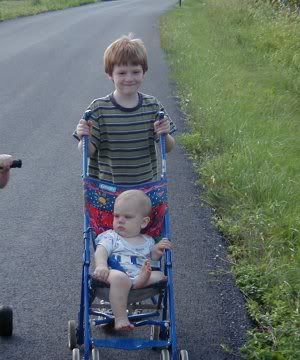 This was a bit nerve-wracking, since each time a car would come past, Samuel would panic and rush off the side of the road, almost dumping Levi in a ditch several times LOL.
If you look closely at the picture of Levi, you might see that he had a cold. He started getting cranky after we got back from the walk, so we headed home about 6:30. It ended up being a nice day.