Ok, so starting with May (Yikes, it's taken me a long time to get to pictures!):
We took a trip back to State College to spend the weekend with friends of ours. These are the same friends who moved to New Zealand 2 years ago. Doesn't it figure that just after we move away, they move back home? Oh well. We had a great visit.
They had these sit-down scooters that the boys loved. They got very good at riding them down the driveway. Micah was best at both speed and steering.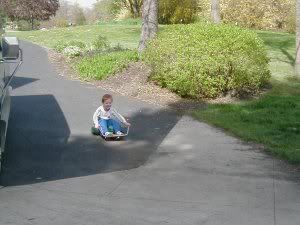 Samuel takes a turn: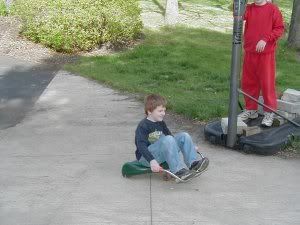 Noah kept wiping out, I think he may have been too big for them. Troyer tried a few times too, but scraped his knuckles trying to steer.
Levi loved their dog, who looks a lot like his Voof.
There was a hammock in the back yard, which all the kids loved. It was crazy watching them try to see how many of them could get on it at once, LOL
After they all fell off, we took a picutre of the whole group on the ground, where it was safer, LOL Notice Debbie and I are not in the picture ;-)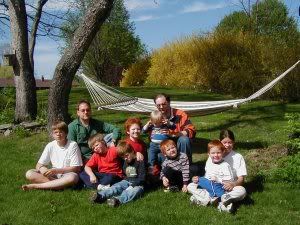 Then at the end of May, it was Caleb's birthday. He turned 6! He loved the whole Ninja Turtle theme this year.
Noah and Samuel saved the icing for last, then mixed it into green ooze. It was gross!
Caleb's card had a punch out mask, which, by the way, matches his Raphael sandals. It was pretty cool, though it was only card stock so it didn't last long.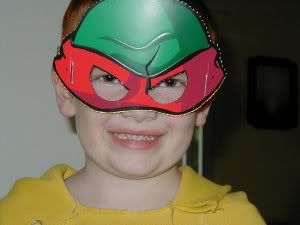 At the very end of May I drove the kids down to my sister's house and she took us all to the National Zoo in DC. It was pretty warm, though after the last 2 months I have to say I'm glad we went when we did! The zoo is on a hill, so by the end of the day the walking is tough, but the kids did great. We parked in the lot at the bottom of the hill, so at least the second half back to the van was down hill.
Of course, the favorite parts of the zoo for the kids was not any of the animals, no. It was:
the water spritzers to cool you off as you walk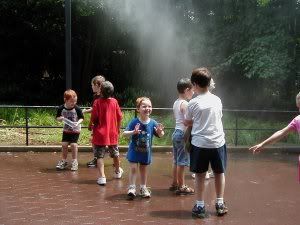 And the giant foam pizza playground
Can't find Levi? Look closer at the olive.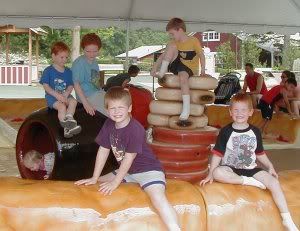 In June I took a trip down to my Dad's, and the kids started the rounds of camp.
After they all got home from camp, they had some friends come to visit from our old church in State College. They stayed for a week, and were here to help Samuel celebrate his 8th birthday!
Samuel had a homemade cake this year, because he really really wanted to have an orange flavored cake. Chris was happy about that, as it is his favorite kind too, and he hates bakery cakes. Samuel was thrilled with his cake "toy," which really was a toy, LOL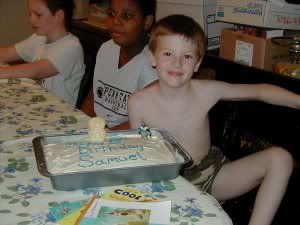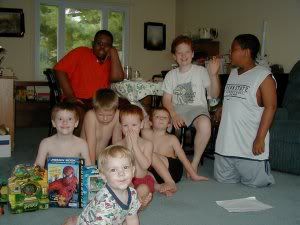 I think you can tell that getting this shot was NOT easy, and yes, this is the best out of the 10 I took! LOL
Since the heat was upon us, they spent every day in the pool.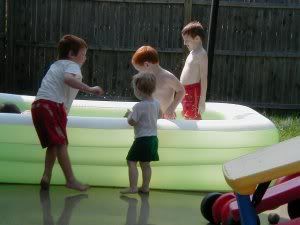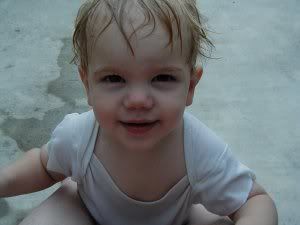 After our visitors left, the boys started swimming lessons. They did great this year. Samuel was nervous again, and this was Caleb's first year of lessons. I was very proud of them for how well they did.
Finally July was over, and I could rest! Still stinking hot, at least in August I've been able to hide out in the house in the air conditioning!
Aimee came out with Danny and Katie for a long weekend, and the kids had a great time. We all wished their visit could have lasted longer. I had my camera ready, but somehow never got any pictures. I think Aimee has a few, so if she gets them developed and sends me copies, I can scan them in. Watch for them maybe around Halloween, LOL.
Last weekend we went to the picnic. The boys spent a lot of time in the pool, but so did I, so I don't have pictures of them swimming. After eating, Chris took them off to explore the property. It is a beautiful farm.
Going for an explore: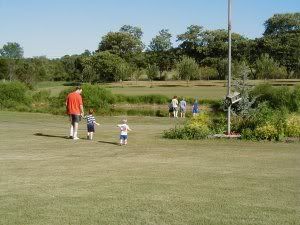 The pond:
Looking for frogs: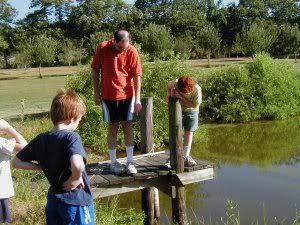 Looking for more frogs: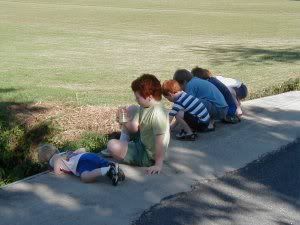 This is the walk up the driveway from the pond to the house. You can see from these pictures why Chris wants so badly to have a property like this for the boys.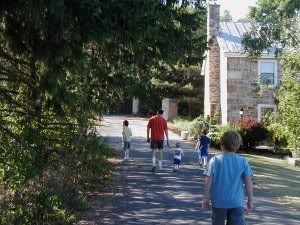 The boys were excited to be able to pet the horses and feed them grass. The horses were very friendly.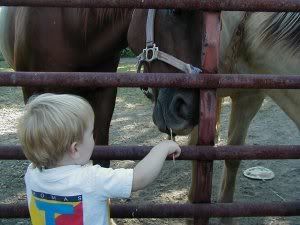 And FINALLY, Levi celebrated his 2nd birthday! His birthday was really spread out over 3 days, since Troyer got home late from Baltimore on Sunday, and Levi had a drs appt on Monday. He didn't open the last of his presents until yesterday.
Levi eats with a fork! And actually gets the food IN his mouth!
Ok, that's it for now! Phew!