Chris and I drove down to VA for the day to spend Thanksgiving with Michelle and her family. Aimee stayed in Ohio to do the day with her in-laws, and Dad planned a trip to Tahiti, so he didn't come up. We had a great time, in spite of the rain on the way down. The kids got to watch the movie Cars, which was really cute, and we stuffed ourselves on some great food. I brought all the desserts, since Aimee wasn't bringing her pies. Troyer made brownies, Noah made a pumpkin pie, and I made apple crisp. It was all yummy.
After dinner, Michelle invited 4 of the boys to stay overnight, offering to drive them back up the next day. They were super excited! Poor Caleb hadn't been very good about behaving and getting his chores done all week, so he didn't get to stay, and he was very upset. But that opened up a slot for Micah, who has not been on a sleep over yet. he was very excited! We thought it was an excellent opportunity for him, since he'd have his brothers with him to help with any nervousness about leaving Mom and Dad. They all had a great time, and when the boys got home and Michelle and Gary drove off, Micah cried at the door that he already missed them.
We all had such a good time that I forgot to take pictures until we were going out the door. Here are the few that I took: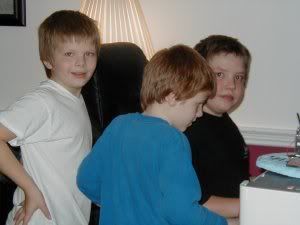 They had a great time playing with cousin Alex, who exhibited loads of patience with all the noise!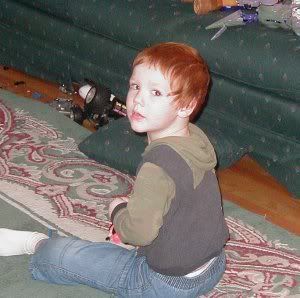 Micah was so busy playing that he almost didn't have time to give a hug goodbye!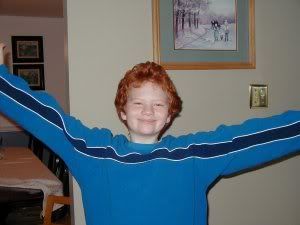 Troyer was happy to stay!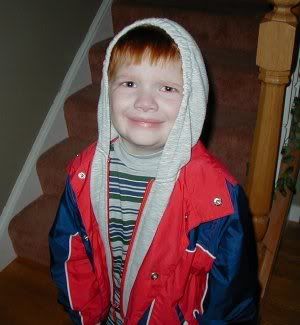 Poor Caleb was very sad to go.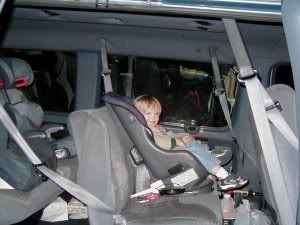 Levi was looking forward to getting home to bed!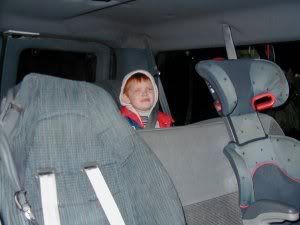 Caleb was upset to ride alone in the back, so we did end up moving him up next to Levi.
Once we got home, Caleb realized it was kind of fun to have the house and his baby brother to himself, and wasn't quite so sad anymore. He also did a very good job of cleaning up the house, making up for all the work he didn't do all week.