Christmas is coming, but I'm not ready. I've bought cards to send but haven't written any out (and haven't taken the boys' picture for them) yet, and bought ingredients for cookies, but I haven't made any. The tree is not up yet, though Chris is hoping to drag it down from the attic tonight so I can maybe set it up tomorrow. I might also bake some cookies tomorrow.
One thing I did finally get done was giving everyone hair cuts. Last Sunday I did 7 cuts, since Chris really needed one too. Whew it was a long hairy day LOL. Even Levi got a real cut, not just a trim. Unfortunately he was sitting on Chris' lap so he could have his arms held out of the way, but Chris wasn't all that helpful, so there is a spot over his left ear that is too short. Mostly you can't notice it though. He was really good for his haircut, too, which was a pleasant surprise. Some of the older ones still fuss about it.
I had a bit of a worry over my glucose test a few weeks ago. I took my 1 hour test the day after Thanksgiving, and the level came out high, so I had to go back and take the 3 hour test, which is more accurate. Ick, I hate those things, and this is the first time I've had to take the 3 hour. Luckily I found out this week that I passed the 3 hour test. I was worried because being diagnosed with gestational diabetes would be a big complication in my plans to have a vbac. Since I am seeing a new group this pg and will be delivering at a new hospital, it seems that my 5 preious successful vbacs mean nothing, and they all assume I will have a repeat C-section. Even saying repeat sounds dumb to me, since the one I had was over 12 years ago. But phew, I passed, so hopefully everything will go smoothly in February!
Here is a picture I took of Levi last night: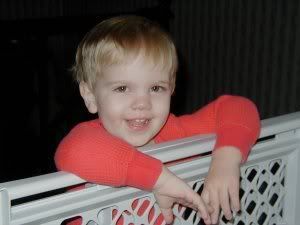 You can't see the bad side of his haircut from this angle. Poor guy caught a cold yesterday, and last night Noah got it too, so they are both home from church this morning, recovering. I hope they are better by Christmas, and that they don't pass it on to their brothers!