This weekend Troyer turned 13. Ack! When did I get so old??? Oh yeah, at the beginning of the month, when I turned 40, LOL. I went out to my sister's house for the weekend, and I took Troyer, Noah, Samuel, and Jacob. We brought the party with us LOL. We had a great time, and I think Troyer enjoyed doing something special for his birthday. His aunt got him a bakery cake and put cars on the top (toy cars from the movie Cars), plus she gave him a small volkswagen model, and a Muppets t-shirt. We went out to eat at a local pizza buffet. The restaurant had a small arcade room in back, and the boys had fun wasting some money in there :-).
We also spent a lot of time looking at books. Aimee and I have a sort of book obsession going on right now, so we spent several hours at her library, plus we went to two used-book stores. She bought more than I did, but I did pick up a few things. We also bought books for our kids. I am sorry to say that my boys were pretty bored in the book store. They enjoyed the library but that's because they all grabbed Calvin and Hobbes and Foxtrot off the shelves and found chairs to sit and read for an hour. Well, except for Samuel, who ended up just falling asleep. I wish I had my camera with me at the library! It was funny.
We didn't have time to do much more than that, since the drive is so long. Even with Chris taking off Friday for travel time, it still was less than 48 hours actually at her house. I sure wish we lived closer! Jacob was so good for the whole trip, and Noah and Samuel did a great job playing with him in the backseat, so he wouldn't get too bored. He didn't complain until the last hour in the car. Even so, though, it slowed things down to have to bring him with us. I forgot to pack the stroller, and he is heavy! At least, after an hour in my arms, he is ;-).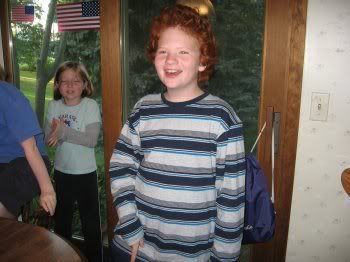 He's 13!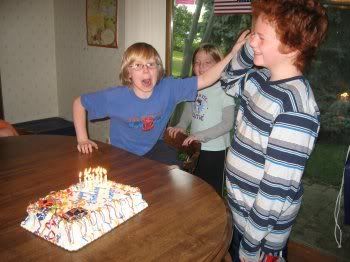 getting silly over cake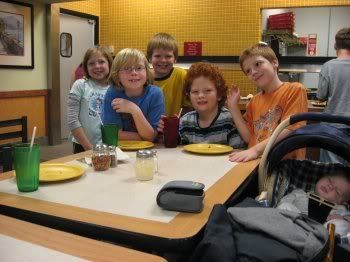 at the pizza buffet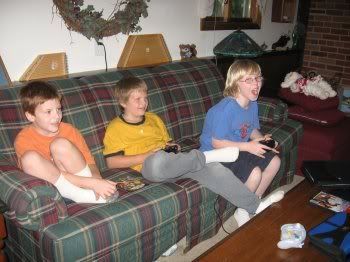 These three spent almost the whole weekend playing Star Wars video games. They were in heaven!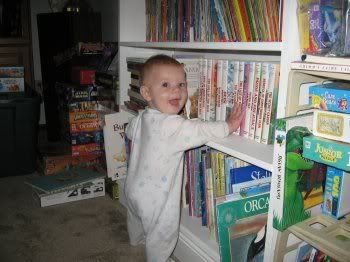 Jacob took an instant liking to the stocked book shelves! Like mother like son!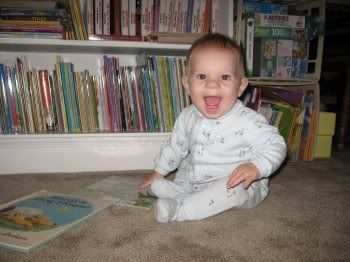 Katie read to Jacob. They didn't get very far before he started to try to eat the pages LOL