Last weekend, Noah and Samuel went on a backpacking camping trip with Pathfinders. They left on Friday afternoon and came home on Sunday afternoon. It took quite a bit of preparation for this trip, because they had to be able to pack everything they would need for the weekend in a pack they would be carrying themselves. The group leaders made sure that no one carried more than 25% of their own body weight, so that meant that little Samuel didn't actually carry everything. He couldn't carry his sleeping bag. Neither of them own a tent or camping stove, so they didn't have to carry those either. They shared with older (larger!) boys who had them.
They were very nervous about going. The leaders talked about hiking 5 miles a day, and warned about blisters and wet shoes. I was nervous too. I was worried about it getting very cold, or raining a lot. As it turned out, it did rain. A LOT. (the total rainfall for the weekend was 2 inches!) Friday night we had a huge thunderstorm, with thunder and lightning, and lots of rain. It drizzled a bit Saturday morning, but luckily the temperatures actually were warmer than they had been the last few days.
The church had arranged to have a potluck picnic in the state park where the Pathfinders were hiking, so we could provide them with a nice big lunch that they wouldn't have to carry. By lunch the sun was out and it was turning into a nice day. We had the food set up, and finally the hikers started arriving. I didn't realize they had separated a bit, and were arriving in groups. The first group of older kids got there first, and I couldn't find my boys. I was a little worried about them, but was reassured that they were fine. Finally I spied Samuel coming down the path.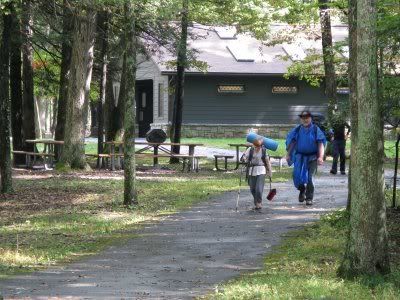 Although tired, he was in good spirits. After a little rest he started in on lunch. He started with the brownies, LOL. At long last, poor Noah finally arrived. He had been doing fine, but he had been assigned to walk with the leader who was in charge of the rear, catching any who fell behind. Noah HATED being last! He was in quite a bad mood when he got there.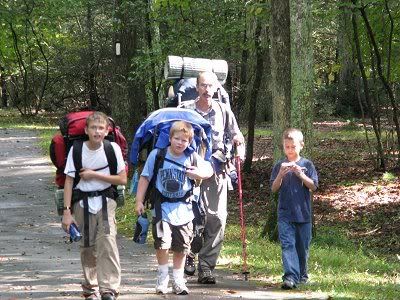 He did feel better after a bit, and ate a good lunch. There was a discussion amongst the leaders about whether or not to continue the hike, because the rain was supposed to return, and the next section of hike was uphill. They were concerned about getting to the site and getting set up before dark, and before the rain. Apparently they had a lot of difficulty the night before because there was a thick fog just before the rain, and they had a rough time following the trail, even without rain. They arrived much later than they had planned.
Noah really perked up at the thought that he could go home, but instead the leaders decided to drive the kids to a parking lot much closer to the next stop, so they would be sure to have enough time to set up before dark. Rats, Noah was grumpy again LOL.
They were also earning a Tree Honor, which is like badges in Boy Scouts. The younger kids, who are Adventurers, also worked on their Tree Honor. Caleb and Micah are in that group, and they enjoyed wandering in the woods collecting leaves and learning about trees.
While they waited, some of the kids played on the swing:
This is the only picture I got of Troyer, Caleb, and Micah lol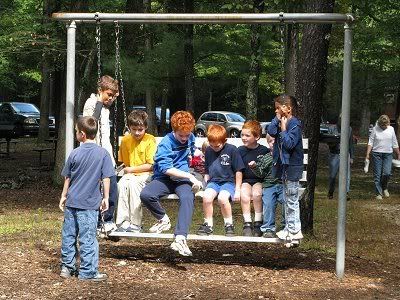 And here are the younger two, with friends: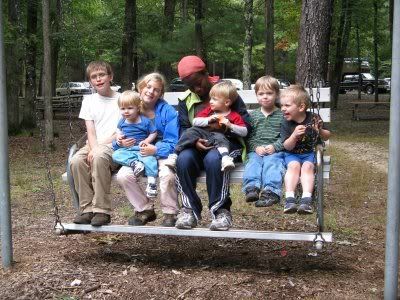 After the picnic was over, the Adventurer leader invited the younger kids to her house for a hay maze and snack. She raises goats, so she and her husband stacked bales of hay in the shed and made tunnels for the kids to crawl through. All 5 of the boys left (yes, Troyer too!) had a great time climbing through there.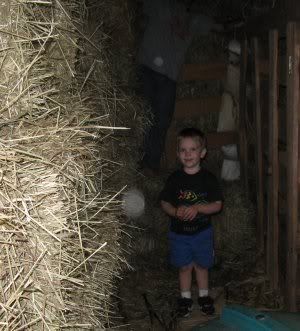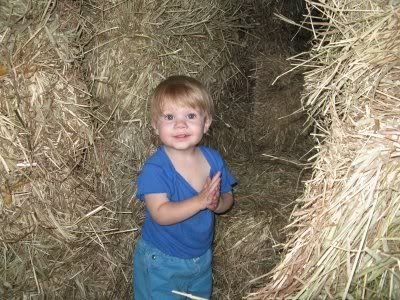 After a dinner of tomato soup, grilled cheese, and apple juice, the kids played some board games, and then it was time to head home for bed. By then, the rain was coming down in buckets again! Arrgh!
Sunday morning came with more rain, but much lighter than the previous night, and by the afternoon it had cleared up. I picked the boys up, happy to see they were still in good shape! Again, Samuel seemed pleased to have accomplished the feat, and Noah was just grumpy LOL. All of their things were muddy and wet. But they didn't get a single blister! I am very proud of them for sticking it out to the end.