Sunday was really just a clean-up day, as we had to leave for the airport before lunch. Dad sent home a suitcase full (literally!) of scrapbooks and clippings and pictures for me to sort through and label. He had been telling us great stories about our grandpa, and brought out some articles about some of his exploits.
One story that has become almost legend in our family is about the day Grandpa crashed his plane in a field and crawled with bloody face (he slammed into the dash and broke most of the bones in his face) and broken back (5 vertebra!) over a mile to a farmhouse for help, where he then scared two poor widows when he knocked on the door! I never even knew there was a newspaper article about it, but Dad found it. Now we have names and a location. Amazingly, the crash site is less than an hour away from where I live! Now my sisters and I have a mission: we are going to go up and explore the area, and see if we can find anyone still living in that area who may remember hearing stories about the crash. It's a rural area, so I'd imagine that something like that would have been big news for a while. We'll be playing History Detectives for a few weeks :-)
As I said, Sunday was just a pack-up-and-go day. I got one last picture: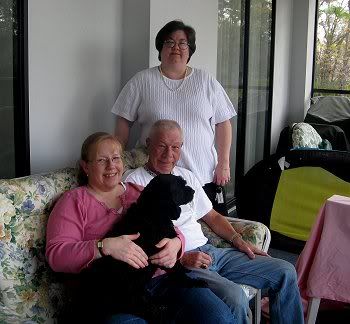 I joked about cutting and pasting Aimee twice, so I could be in the picture too LOL.
Our visit was very relaxed, and that was deliberate. We didn't want to pack our days with tourist activities and get worn out while we were supposed to be relaxing. We watched DVDs of LOST, spent some time on the computer (I brought my laptop along, so we didn't have to borrow Dad's), went out to eat, read books, slept late, visited friends. Oh yeah, we giggled and laughed A LOT! It was a great vacation! I could have done with another 5 days of it LOL.