We went to see another house yesterday. It was priced out of our range, but we really didn't have much else to look at, so we figured we'd give it a try. Here's the report:
The location is great; back road, very little traffic, exactly half way between Chris' parents and his office. The yard is very pretty; nice front yard, huge back yard, lots of nice mature trees, but still a big open space to play. 2 car garage plus another shed maybe for bikes and toys.
The house itself is a 4 brm (4 true bedrooms, not closets! LOL) 1.5 bath farmhouse. There is a back screened in porch and what they called a 3 seasons porch, which just means it is a porch with windows. Neither is big enough for furniture, maybe just some lawn chairs, but perfect for pulling off snow suits or muddy shoes. The kitchen needs updating desperately, but it will do for now; I am not one known to love being in the kitchen, LOL. Nice sized living room plus 2 more small rooms that could be a den and a school room.
Some of the drawbacks about the house: the furnace is an old coal furnace converted to oil, so it is very inefficient and needs to be replaced. The siding is shingle, and the windows are wood, so it would need vinyl siding and replacement windows eventually. I mentioned the kitchen already, plus it is painted a dark brick red color, and is on the north side of the house, so it is very dark. The basement had 2 sump pumps in it, so there is clearly water in there. It looks like the previous owners did a good job of channeling it but still, no water would be better. Most of the wiring is old; service to the house and the panel are all brand new, but Chris would have a lot of outlets and switches to replace. The laundry is in the basement, and the steps down are awkward; I would really like to have the washer and dryer hook ups moved upstairs next to the half bath, but Chris said that would not be a priority. There was some water damage under one window in the master bedroom, but I couldn't tell if it was recent or not. I thought it looked like it, but Chris says he doesn't think so. We'd have to find out about that. It could be as simple as a clogged gutter, or something more serious. Last, it was not clear how the two bedrooms on the east side of the house were heated. We couldn't find any vents but it was very warm in them. Of course, yesterday the temperature was in the 50s, so it was actually hot in the house. It has a metal roof, so it was very warm in the sun. I am concerned about heat in the summer too. At least there are lots of shade trees on the property, so maybe we will just spend a lot of time outdoors, lol.
A view of the front yard: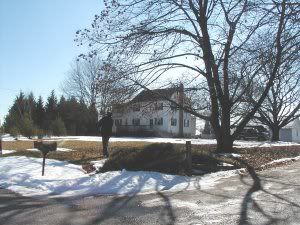 Front of house: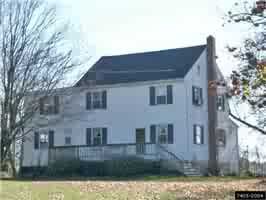 The back of the house and the garage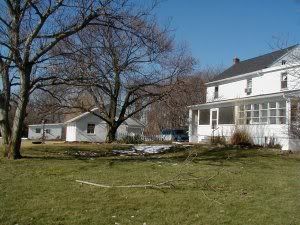 A view from the driveway looking down the street: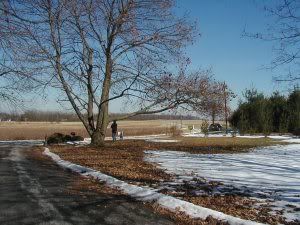 After walking through the house and talking with our realtor, he told us that since there was a lot of work left to be done on the house, and it has been on the market a while and is vacant, that we could offer quite a bit below the asking price. He said there was no harm in trying, which was nice. I'm used to realtors saying "I won't waste my time with an offer too low" and such. I think we got lucky getting this guy.
He's going to email me more info about the property today, and we are going to write up an offer this week!