Ok, I am going to forget most of what happened in the last month if I wait for a time to write it all out in detail. Here it is in fast forward:
Father's Day
For Mother's Day Chris got me a bunch of candy and a card, so that's what he got for Father's Day. Isn't it nice that the men have to set the standard for such holidays? We went over to FIL's house for dinner and gave him some cards, but no gift. Chris' family isn't big on cards and those sorts of holidays; much different from my family. My Dad's cards are on my table to give to him when he comes to visit.
Levi Walks
Levi has been cruising the furniture for a few weeks now, but only a few steps at a time, and never stepping away from it. Well, at 10.5 months, he got brave enough and tried it out. Only a step or two here or there, from the end of the couch to the chair an arm's length away. But of course you can guess, less than a week later, he is taking 5 or 6 steps at a time, and now is practicing turning and walking at the same time. The only thing he hasn't figured out yet is how to stand from a sitting position unassisted. He still needs to pull up on something to get upright. Come to think of it, so do I LOL.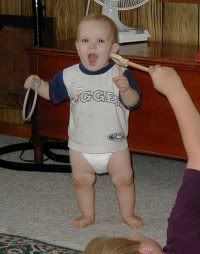 Noah off to Camp
After a frantic week of gathering up clothing and digging out flashlights, Noah was ready to go to camp. We weren't sure if we would all go up as a group to check him in or if Chris would go up with him alone in the car. I like to take pictures dropping them off, but the car would save $ in gas. On Sunday morning, Samuel decided the issue for us. He had not eaten well the day before, and woke up throwing up. Since it was going to be very hot all day, we knew a car trip was just a baaaaad idea for him. Chris and Noah headed out around 10:30, and by 11 Samuel was keeping down Saltines and some soda. I figured he'd be fine as soon as he got some food in him, but still, I'm sure being stuck in a hot van would have made his recovery take much longer. By afternoon he was his old self and eating fine.
Check in time for camp was at 3, and Noah had to take a swimming test before Chris could leave, so he didn't get back home again until 8 pm. It was a long day for Chris.
Dad Here
My Dad was lucky enough to score a ticket to the 50th Porsche Parade in Hershey this year, and was super excited to go. He decided to take an extra week driving up from Florida and stop in at my sister's for a few days on the way. He had a great time at the Parade, even though the temperature was in the 90s all week and he was outside most of the time, often on the parking lot at the autocross. He said the concours was not as successful because of the heat; it was on the golf course.
We arranged that he would get to my house on Saturday after checking out of his hotel. He was supposed to get here around 2. That would give me time to run the vacuum once more and straighten up for him, and get sheets on his bed. He stayed in Troyer and Noah's room, so I made Troyer clean up and he slept out on the couch. Well, at 10 am while I'm vacuuming, someone knocks on the door. Guess who? That's right, my dad! Arrgh! It turned out ok, he came in and sat for a bit, then decided to go out to the liquor store and the cigar store (we don't drink or smoke here, so I didn't have even a beer or bottle of wine for him). That gave me over an hour to get a shower and get dressed and finish picking up. Chris and the boys went to church so I could get the place cleaned up, and they ended up getting home before my dad got back.
I did a lot of shopping for food the day before, and had a great meal planned. We had cold subs for dinner (it was way to hot to cook inside, and I don't have a grill) plus grapes and corn on the cob (yes, I had to boil water for that LOL and the kitchen was HOT!) and I made homemade strawberry shortcakes (Bisquick recipe) for dessert.
Chris was invited to play cards with his friends that night, which he was going to decline, but I told him it was ok. We've been here 3 months and this is the first chance he's had to go hang out with them. I didn't want him to have to wait another 3 months. Saturday nights here is movie night, so I made popcorn and gave the boys Twizzlers and we watched Galaxy Quest. It was very funny, and my dad enjoyed it too. He likes Star Wars and Star Trek, so it was right up his alley. I was hoping Chris would get home by 10:30 or 11 so I could run to the video store and return the movie, but he didn't get home until 11:45. I was already dozing in bed, so I decided to just pay the late fee.
My dad left early the next morning (not quite as early as Troyer and Chris, but that's another topic) for home, and we headed over to SIL's for her 4th of July picnic around 2 pm.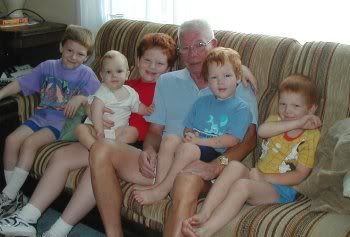 Everyone but Noah with my Dad
Troyer off to Camp
Chris and Troyer, and this time Samuel, got up and left by 7 am to drive back up to camp. They had to leave earlier this week because check out time for Noah was at 10 am. I called the day before and let them know that we would be getting there a little late, and could we leave Troyer off a little early, instead of having to wait the 4 hours to check him in. They told us it was fine, they would take care of Troyer and help him check in himself.
Samuel wanted to go along because he was so eager to see Noah again. He figured that driving up there meant he would see Noah 4 hours earlier LOL. So I had just the 3 youngest boys at home with me. We cleaned up from my dad's visit, and then headed over to SIL's for a picnic on her deck. I rummaged through the garage and found our box of play-doh and brought that along. I also spent the morning making cookies again. Yum, they turned out much better this time, since it wasn't quite as hot as last time.
4th of July picnics
About 1:30 we headed out to SIL's. I stopped on the way and returned the video (the late fee was only $1, so not bad at all) and got gas. We drove on over to SIL's, and broke out the play-doh right away. It was a good idea to bring it, Caleb and Micah were busy with it all afternoon. BIL was already starting the grilling so it wasn't too long before we started to eat. Levi ate some watermelon and really liked it. I gave him a huge lunch before hand since he tends not to eat much when we are out. To my surprise Chris got to SILs house not much later. I thought he'd be tired and want to go home and nap, but I guess Samuel and Noah out voted him. BIL had fireworks planned for the evening, so Chris just drove straight to their house from the camp.
Noah told us all about his week. He had a great time; he did very well in archery (though he says he got 5 bulls-eyes in one afternoon, which seems a little too good so I'm not sure how truthful he's being) and had great fun learning to jet-ski. He said it wasn't actually lessons, they just had older kids take them out on the lake on the jet-ski and they rode passenger. Well, that was the plan, but one time they were out they hit the wake and his driver fell off. He managed to stay on, so he got to drive the ski back. He had such a thrill! He also passed his swim classes this year, so next year he can take the next level of swimming. I am very happy that he is learning to be a competent swimmer.
I had thought that Chris would want to head home early with Micah and Levi, since they didn't care about the fireworks, and he could get some sleep, but I ended up being the one to leave early while he stayed with Noah and Samuel. Caleb ended up going home with Grandma and Grandpa and spending a few days at their house. Chris said the fireworks weren't that impressive, but I'm sure the noise would have bothered Levi and Micah. In fact, there were quite a few going off all night in our neighborhood, which surprised me since we don't live out in the country. BIL has 2 acres, and his neighbors have even bigger properties, so it's not such a big deal out there; but all the houses here have 1/4 acre lots. It sounds too dangerous to me, but oh well. The noise kept Levi from getting to sleep until after 11.
On Monday we headed over to MILs for another cook out. It was nothing fancy, but FIL got a new grill and has been using it any chance he gets. He made chicken again, and this time we could actually eat it ;-) We had a nice time and headed out to get the boys home for bed. Caleb stayed over again.
Ok, I think I am caught up to this week, hooray! The coming weekend and next week will be busy again because when Chris picks Troyer up from camp on Sunday, he will be stopping off to pick up 2 of the boys' friends from our old church and bring them to stay for a week. It is something we have planned since we moved. The boys are very excited about it. Samuel also has a drs appt on Monday, which I am hoping I don't forget about!