We've had cold weather the past few days, but the skies have been pretty clear. Today while I was out shopping, that changed. It started to snow, and it kept snowing! We didn't actually end up with a big accumulation, but it made the roads very slippery on the way home. I cut my trip short so I could be sure to get home before dark. My nightmare has been that all our snow would finally come in February, just in time for me to need to get to the hospital. Of course it looks like that will happen after all. I start my weekly dr. visits tomorrow; I sure hope it doesn't snow any more until Tuesday.

Last weekend Michelle came up to take me out for a girls' day out. We went out to lunch (at Applebee's, which I hadn't been to before, yummy!) and then went shopping. On my agenda were: curtains for the living room, some maternity pants for me, and a home-from-the-hospital outfit for the baby. I have been searching for all three for a while had having no luck. Michelle was happy to drive me over to the mall that I hate to drive to, and we did good!

First, the curtains: notice how I didn't say "new" curtains? That's because for the nearly 2 years we've lived here, we have only had sheers hanging in our front window. A big picture window. I finally ordered a curtain rod (had to order because I needed 120" long, and that is hard to find in stock in a store) which came just before Christmas. We had just one of those flimsy white aluminum rods which the boys had bent from pulling on the sheers so often. Just the new rod alone looked so good! I also wanted to find sheers or a scarf for my dining room window which is at the opposite end of the room from the living room window. I needed them to coordinate, but I didn't need to block any light, because that window faces north and has a pine tree in front of it, I just needed to dress it up a bit. I found just what I wanted at JCPenney's, but the scarf alone was $80! Ouch! I had to pass that up, but the next store we went in I found a very nice scarf on the sale table for $10. It was different from what I had been planning, but it still was very nice, and I couldn't really feel bad for spending $10, lol. We were able to find tab-top curtain panels to coordinate with it, and they were relatively inexpensive, so I got a set of those too. Chris just hung them today, and it really helps make the room feel more finished just to have the windows dressed a bit.
Here is the front curtains: boring tan, but better than nothing! And now it can block the sun when we watch tv in the afternoons.
And here is the matching scarf across the room: (please ignore the clutter and mess! LOL)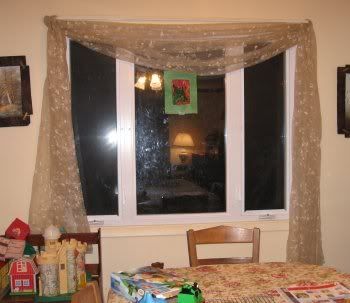 Next we looked for maternity clothes. I ended up in Motherhood, which surprised me because I'd have thought that the clothes there would be more expensive; but it turned out that they were charging less for the same clothes that Kohl's was carrying. I found a pair of black pants that have some stretch to them, and a dress so I can finally go back to church, LOL. Here is a picture of me in the dress, but I'm beginning to regret buying it. Troyer took a bunch of pictures of me in it tonight, and I hate all of them! I feel like I look like a horse. Either it really looks that bad, or Troyer takes bad pictures, LOL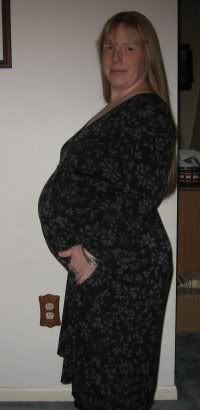 Last on the list was a baby outfit. I was beginning to despair, and I think Michelle deserves an award for putting up with me on this shopping trip, LOL. I just hated everything we saw. Maybe that is because I am just so sick of buying boy things, it all looks the same to me now. I can't tell you how many cute cute cute girl outfits I saw. Waaahhhh. Finally in Kohl's I found a set marked 70% off and it was just what I wanted! Woohoo! It's in a basket waiting to be washed, but you'll be seeing a picture of it soon enough ;-)

After that we came on home, my feet were killing me and Michelle was getting tired too, and she still had to drive home. I really did have a nice day out with her, it is nice to have someone to shop with who doesn't constantly talk about Star Wars or Bionicles LOL.

About mid-week I came down with a cold. It was pretty nasty but I think I've just about kicked it. I did stay home from church (even though I had a new dress to wear!) to get some extra sleep, because my sinuses were keeping me up all night. I really don't need a cold hanging around until the baby comes. Nothing like labor when you can't breathe well. Ugh.

One more note, I've made a bit of progress in getting ready for the baby. No, we don't have a name, and no, the carseat is not in the van yet. BUT it IS out of the attic now LOL. I asked Chris on Tuesday if he was going to be getting the seat and the baby clothes out soon, as I am quickly running out of energy to do all that wash; his answer was no! Grrr! So on Thursday I went up in the attic myself (yes I am 8 months pg and had to climb a ladder as we don't have a walk-up) to find what I wanted and bring it down. I did enlist Troyer's help with the two big heavy plastic bins of clothes (I have all baby clothes from NB to 9 months in one bin) and blankets. When Chris found out I did it myself, he said oh, he was kidding, he was going to go up there this weekend. Yeah right. He still thinks we have plenty of time; I know very well how long it will take me to actually get this stuff washed, LOL. I also brought down a few boxes of maternity clothes. I didn't realize how much winter stuff I actually have, I assumed it was all summer. I have a box of clothes from Aimee, and her kids were born in January and March, so that is nice, I have a few more tops to wear.