Levi turned 1 year old on Saturday! Wow, the year has been busy! It's hard to believe that just last summer we were starting to get our house ready to sell, Chris was starting his new job, and we were trying to figure out when he should start his orientation.
He sure is a cutie :-) He is my best natured child; even tempered and easily entertained. He is not afraid of strangers and likes to be held by lots of people. That is nice at church, where so many ladies are baby hungry ;-). He is also the earliest walker, at 10 months, and the slowest to grow teeth. Most of the others had a full mouth of teeth by their birthday, Levi has just the 8 in front, and 2 back molars so far. Troyer had all of his baby teeth by his birthday. Then again, Troyer has all of his adult teeth now, including his 12 year molars, and he is not yet 11! Levi walks and runs everywhere, and can climb like a mountain goat. He gets himself into a lot of trouble, lol. He is usually a good sleeper, though the past few days he has woken up once a night half way through needing a snuggle and drink of milk. He also wants to play, so I have to walk him up and down the hall to show him that all the lights are off and everyone is in bed. He usually is convinced and will then lay down and go back to sleep.
There are no plans for another baby at this point, so Levi is our last. He will be the baby forever. I hope his sweetness and good nature will last into adulthood.
For his birthday, we had a little party for him. My sister Aimee was here with her kids, Danny and Katie, so it was more than just the brothers, which was nice. We only did cake, and Aimee gave him a cute stuffed dog. All the other boys have "pet" dogs, so Levi needed one. I didn't get him any presents because, really, what does a 1 year old with 5 older brothers need? I hated the thought of getting him new clothes, knowing that there wouldn't be another baby after him to use them. That just seemed like a waste. And same goes with baby toys, he already has plenty. So he will get some cash in the bank instead. This really is better anyway, since a lot of the relatives that used to send money in cards for the older boys are now gone, and he doesn't get much.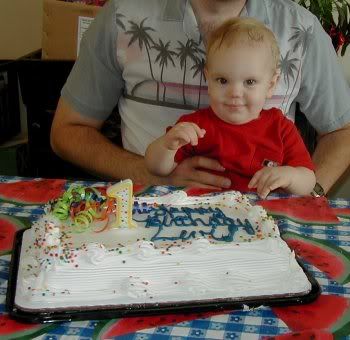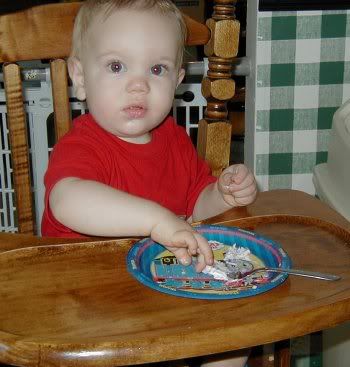 We also all went to a picnic after lunch. Chris' coworker invited all her officemates to her annual picnic out at her farm, along with their families. I made sure it would be ok for Aimee to come along, and as expected it was no problem. The drive up there was a bit nerve wracking though. When we started out from the house it was the hottest day of the summer, and we were wondering about the sanity of an outdoor picnic when it's 100 degrees outside. But, it's about an hour and a half from here (I can't believe that woman drives that distance every day even in winter to get to work and home again!) and half way there we had to go over a mountain. Well, there happened to be a thunderstorm going on on top of that mountain! It was very scary. We thought about turning around, because really, what fun was this picnic going to be for the kids in the rain, with no swimming? And I was so worried about a tree getting blown over on top of the car! But we got over safely and kept going. A lot of cars had stopped along the side of the road to wait it out because it was so hard to see, but we kept going. I figured by that point we might as well just get there and get inside her house to wait out the storm. Wouldn't you know it, about 2 miles from her house, the sun came out and it was beautiful! There hadn't even been any rain there. It was a bit cooler, too, maybe only 85, which is perfect for swimming.
We got there and jumped straight into the pool. It was a lot of fun! The kids all had a great time, and it was neat to see them all swimming so well. The swim lessons paid off! Even Caleb, who hasn't had lessons yet, was doing great in the shallow end, jumping in off the side and going under the water. He was fine as long as he could touch the bottom with his feet. Micah and Levi loved it too, taking turns with either me or Chris getting towed around and pretending to swim. Samuel almost got up the nerve to try out the deep end, but never did get out there without a float. I think it is the first time I have had a chance to do some real swimming in over 10 years. I did swim at my dad's place 2 years ago, but his pool isn't deep, so you can't dive in it. I actually dove off the board twice this weekend! Aimee assured me I didn't look very bad LOL. I just couldn't resist. It makes me wish I had a pool.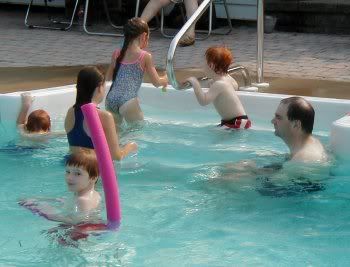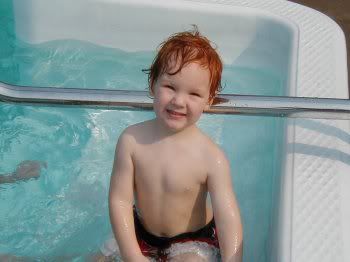 We stayed about 4 hours, and then headed off home again. We were hoping the kids would be really tired and sleep well, but of course they didn't get to sleep until after the adults! And they were still up by 7 am. Ugh! lol They are paying for it now, though. They have been very sluggish this week.
Today Levi had his 12 month check up, and did great. He is 21 lb 4 oz, and 29 in long. Not quite as big as Caleb or Micah were at 12 mo, but bigger than the other 3. I told the dr that he is right on track for my group. He got 3 shots but didn't even cry, and had his iron retested, because at 9 mo it was low. This time it was 12.5, so very good. He minded the band aid on his finger more than any of the pokes, lol.
I also had his picture taken on Friday and it came out very nice. The pictures on the disk that I bought are off on the color, which disappoints me since it cost almost $15, but you can still see how cute he is :-)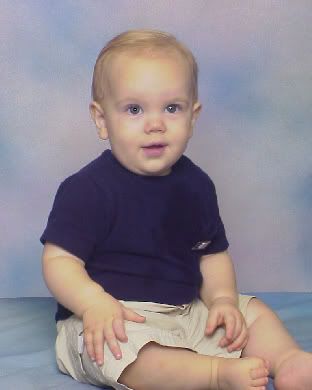 I love this one: