I haven't been here to post in a while, because it's been HOT. Much too hot to sit at my computer and edit pictures and wait while they upload and compose posts. Blech. I had a nice mother's day, got candy and flowers and a card, plus Chris got me a few presents. It took a while to train him, but he did well ;-) Now to get the boys on board, LOL.
Caleb had his birthday, and while his behavior has been not-so-great on occasion, he was good enough to get his cake and presents on time. I think he learned from Micah's mistake!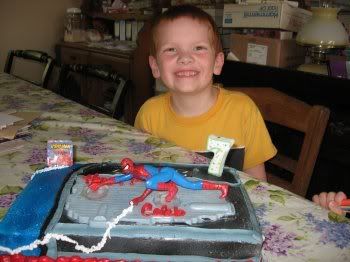 Jacob also turned 3 months old the same week. Wow the time went fast!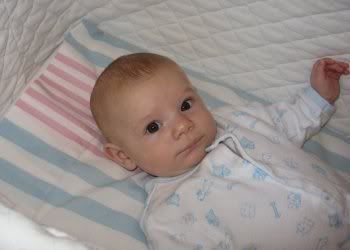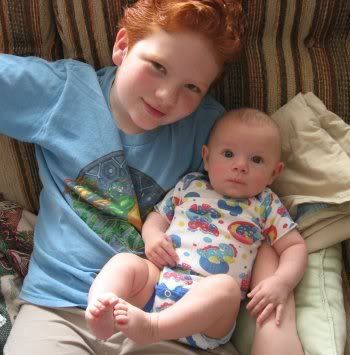 Micah and Caleb both had their check ups on the same day. There is a new chicken pox vaccine booster, so they both had to get a shot, and neither was happy about it, but it turned out fine. They didn't cry at all, and the doctor told them he was impressed, that boys older than them made more fuss. I took them out and got them candy bars to reward them for their bravery.
The next week Caleb went back to the dentist to have his molars sealed. It was a quick in-and-out visit. I wish they had sealants back when I was a kid!
This past weekend, after an awful hot week, during which I would NOT turn on the air conditioning, out of principle that you should just not have to turn it on in May, Chris decided that rather than sit in church and sweat on Saturday, we'd take the boys out and explore. We loaded up the van with water and snacks and drove around looking for fun spots. First we drove over to where Chris' grandparents are buried. It's on a hillside and has a beautiful view.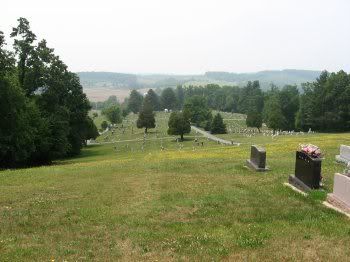 It took us a while to remember where his grandparents were buried, but after searching for a while, it turned out that we had parked right near the spot!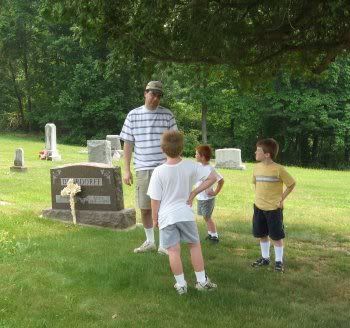 I had been thining for a number of years that it was Samuel who was a baby at his grandmother's funeral, but when we read the dates on the headstone, we realized that it was Noah! Oops. We had fun looking for old headstones and competing to find the oldest date. We found one stone that said 1822!
After getting hot and sweaty running through the cemetery, we went back down the hill to a little park with a stream running through it. We broke out the snacks and the blankets,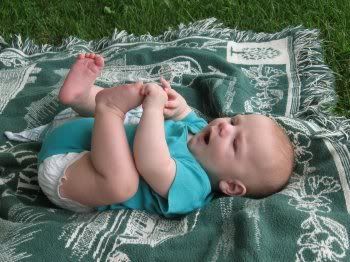 and the boys took off their socks and shoes and went wading.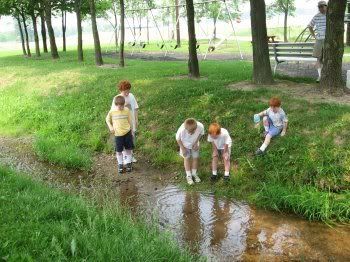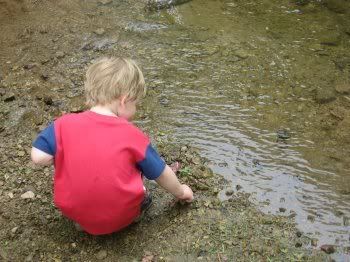 They found and caught a crayfish, but they let it go. Noah found an old claw left behind by a now-gone crayfish.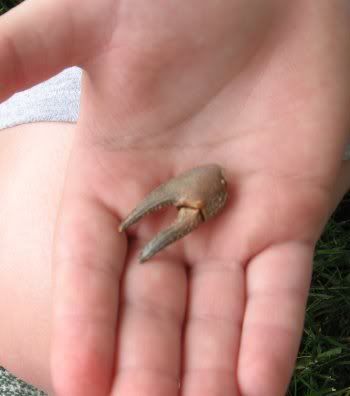 Next we drove to another cemetery, this one a tiny spot on the side of the road near where Chris grew up. There is no church there any longer, but someone built a miniature church as a memorial.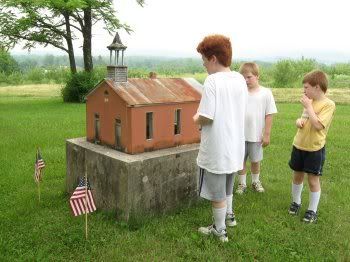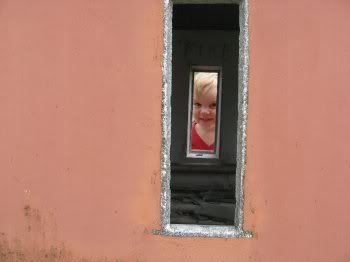 We managed to get home in the evening before it started to rain. It rained most of Sunday, but that's ok, because it cooled things off a lot! We spent most of the day helping Noah and Troyer clean out their room. Ugh it was nasty. It looks good now, let's hope they can keep it that way for a while!
Oh, I have more books and movies to review, but I'll save that for another post.