Ok, so Troyer's birthday was Monday. On Tuesday I went to the doctor to have a cyst removed from my scalp. It wasn't painful, but it was annoying and was getting bigger, so I decided to have her cut it out. It was from an oil gland getting plugged and then infected, sort of like a pimple but not in a pore. It was cool listening to her and the nurse working on it. They cut a little slit and then popped it out. Then I got a few stitches and was done. I had to keep my scalp dry for almost a whole week, which meant no washing my hair; yuck!
On Wednesday I went to my Women's Ministry meeting. We are studying The Love Languages of God, which is part of the 5 Love Languages series. It's very interesting to learn a new perspective about the different ways people understand and receive love.
Neither of these two activities were picture-worthy (well, maybe the cyst removal, if you like that sort of thing, LOL, but I didn't have a camera with me, and I didn't have anyone to take the pictures). But on Thursday, I took all the boys on a field trip for an orchard tour. Our church school organized a trip, and invited us to go along. The weather was great (though a little breezy and cold, but that makes it more Fall-like, right?) and the boys had a great time. Definitely picture worthy! lol
Here we are loading up into the wagon for the ride through the orchard: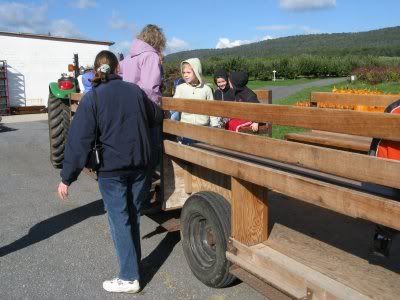 Right where we loaded up they had a huge pumpkin patch set up. It looked pretty, but we didn't get any pumpkins. It feels too early to put pumpkins out yet.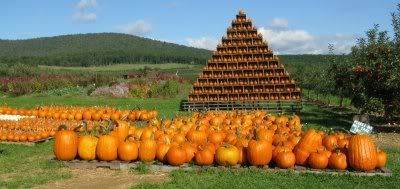 We drove out to a spot where everyone was allowed to get out and pick an apple for themselves. Along the way we got a lesson in the growing and picking of apples. The boys loved the snack!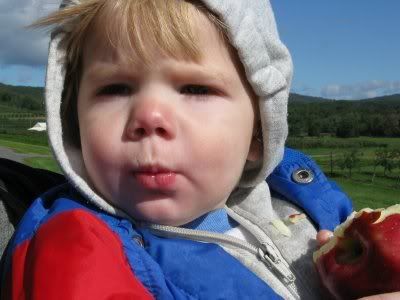 Of course, I didn't actually get a picture of them picking, sigh.
After the orchard, we got a tour of the huge refrigerator where they store the apples after picking, and then the processing section where the apples are washed and sorted by size. Finally, we got to walk through the store and see all the different products you can make with apples, as well as buy bushels of fruit. They had some pears and a few grapes and peaches too. Of course the smell of fresh baked apple pies was hard to resist!
Jacob liked this guy: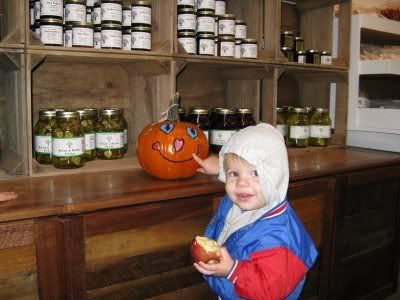 Once the tour was over, we had lunch at the play area they had set up for kids. Lots of climbing structures and a big sand box, as well as a cute hay "maze" and some neat tunnels they created by piling hay and wood chips over big pipes.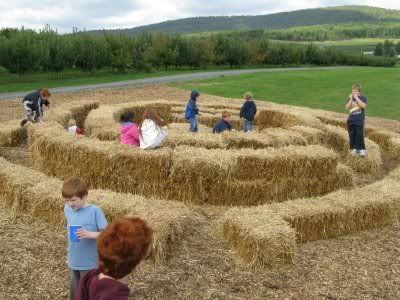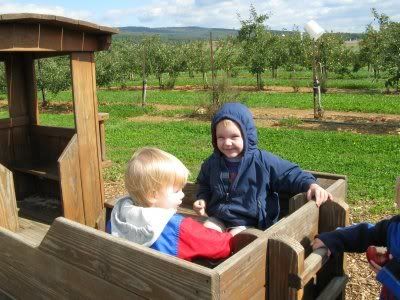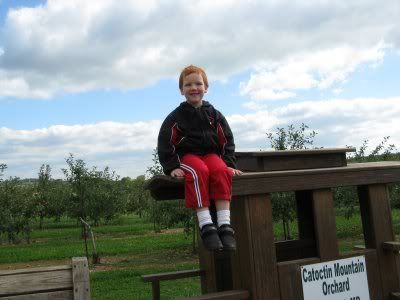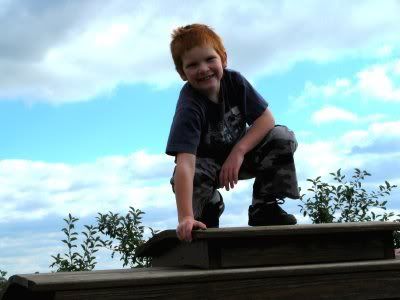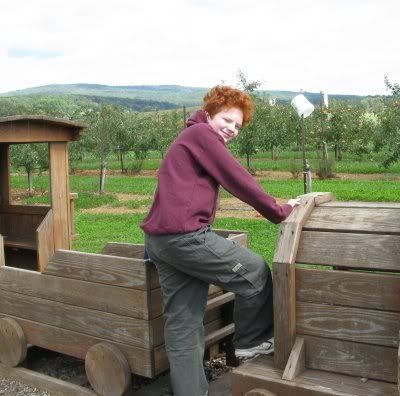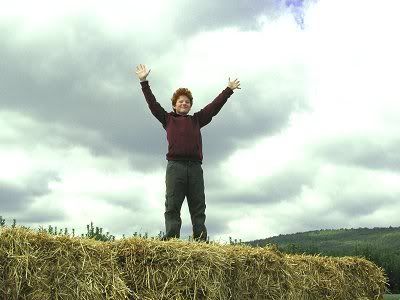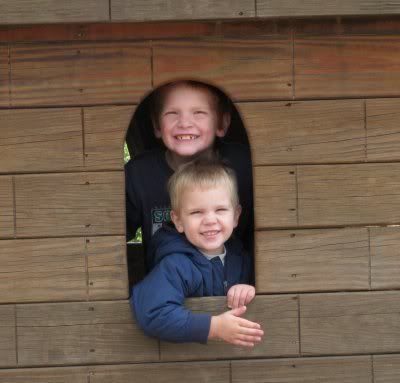 The boys had so much fun they really didn't want to leave. :-)