After the orchard tour on Thursday we headed home and I started packing for another camping weekend. This time there were 4 boys going, and me! Noah and Samuel were tenting with the Pathfinders again (but not backpacking, thank goodness!) and I was accompanying Caleb and Micah for an Adventurer (that's the junior version of Pathfinders, kind of like Cub Scouts or Brownies) weekend. Luckily we got cabins. This trip was over 4 hours away, so I had to make sure we remembered everything; there was no going home for anything we forgot! We left around 1 on Friday afternoon, and headed out for the mountains. I had checked the weather and the rain we had had early in the morning was all that was forecast. The rest of the weekend looked clear!
We had a pretty easy drive up, nice weather, no bad traffic. Our only trouble was that it was a bit cool outside, but anyone sitting on the sunny side of the car got overwarm. It was hard to keep the car an even temperature so that one side wasn't too hot and the other too cold. We arrived a little early for check in, so I drove Noah and Samuel down to the camping area where their group would be. This gathering was a conference-wide Camporee, so there were going to be a lot of other clubs there. When we drove in, though, there was hardly anyone! I didn't even know where their site would be. Luckily the club had sent up a few adults early, to gather firewood, and they found us and directed us to the right spot. I dropped off Samuel and Noah, who were not happy to have extra work to do LOL, and they got busy helping stack the wood.
At this point it was time for the boys and me to check in at the lodge. We were still some of the first campers there. Once I had checked in, I learned that they were not going to be serving dinner, and there were no activities planned for that night. Ugh! WHY had I gotten there so early??? I got directions to the nearest WalMart and went off to get us some snacks for dinner. My biggest concern was getting back before dark, since I was driving on unfamiliar roads. I didn't want to get lost in the dark! We picked out snacks and I also picked up some coloring books and crayons since I figured they would be bored later in the evening, and headed back. There was only one turn that I almost missed, and we made it back safely. Phew! We settled into our cabin and waited for our cabin-mates to arrive. We though we were sharing with two other boys and their moms, but it turned out that one of the moms was going to be staying in the lodge, so once Benny and his mom arrived, we were set. It was a cabin for 11 with just 5 of us in there. Fancy cabins, too, with bathrooms attached - even a shower all to ourselves! We didn't know but were pleased to find out that the cabins were heated too! Hardly roughing it LOL. Micah had a hard time sleeping away from home. He didn't want it dark, but the light from the bathroom that we left on for a night light kept him up. He tossed and turned all night, which kept me up too.
After breakfast in the morning, the boys got dressed in their uniforms and all the groups marched down the road to the Pathfinder campground. We had been invited to a "Flag Retirement Ceremony," to dispose of old tattered flags respectfully. It was pretty cool; I have never seen one before. The flags were raised, the pledge was said, the anthem was sung, and the color guard stepped forward one at a time to read some history about the American Flag. The flag was presented to the Pathfinder Director, who then "approved" the flag to be retired. The color guard carried the flag 3 on each side, like carrying a coffin at a funeral, stopped for a 21 gun salute, and then readied the flag for burning. First the captain of the color guard cut off the blue field from the stripes, and then the other 5 carried the stripes to the fire and dropped it in. The captain followed with the blue field and dropped that part in last. Another mom and I agreed afterward that it was a very moving ceremony. We knew the kids probably didn't really appreciate it because they don't have the life experience to have witnessed the disrespect our flag and our country receive; but we have seen it, and it was so meaninful to us to see proper respect. Such a contrast!
The morning was wet because it had, in fact, poured AGAIN the night before, and Noah and Samuel were pretty cold. We were a bit warmer because we had hiked the mile up to the camp.
Noah is in the blue coat, and Samuel is in the orange.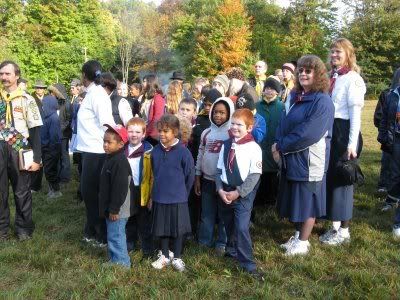 Caleb and Micah are the redheads. It is hard to see Micah!
Here is the gun salute. The Teen Leaders in Training were allowed to fire some of the rifles, along with 2 of the adult leaders.
And here is the color guard readying the flag for burning. They passed over the burn barrel and dropped their corners in 2 at a time, and the captain came behind them.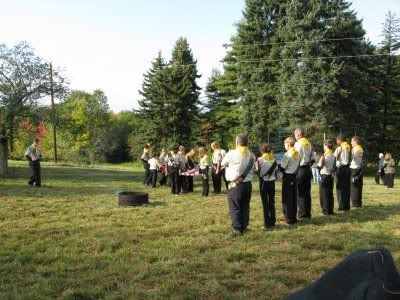 After we hiked back for lunch, the kids earned an Outdoor Explorer honor. We went on a scavenger hunt to find the alphabet in nature. We had to find an item for each letter of the alphabet. Luckily we didn't have to collect them all, just find them! The day had warmed up beautifully and we really had fun. Our group found almost every letter.
After dinner the kids got to play in the gym for a while to burn off more energy (yes, after that 2 mile hike in the morning, and that scavenger hunt in the afternoon, plus rolling down a STEEP hill at least 12 times after lunch, LOL) and then we had some quiet time before bed. There was nothing really planned for Sunday morning besides checking out after breakfast, so we were pretty relaxed. I have to say, those bunks are fine for kids under 12, but UGH not for this old body. My shoulder ached for over a week after I got home, from sleeping on it.
Sunday dawned bright and clear again, a great day for driving home. The Adventurers finished up by 9:30, but the boys and I had to wait until 12 to pick Noah and Samuel up at the campsite. Ordinarily the two groups don't have their camping trips the same weekend; it was just a coincidence that they did this year. We took our time packing up and cleaning the cabin, and by 11 I decided that my boys could leave early. After all, they had arrived hours earlier on Friday and did more work for it, so it should be fine. I drove down, and they had their stuff packed and ready; the group was just cleaning up the campsite. It was no problem to take them home. The drive home was sunny and warm again, this time nice enough to have the windows open with no complaints. We arrived home by mid-afternoon, in time for me to make a shopping list and go out for my weekly grocery run LOL. I sure would have preferred to relax a bit but Sunday when Chris is home is really the best time for me to get the shopping done.
I wish I had more pictures, but my batteries died at the flag retirement. I'm glad I got a few shots of the boys!