Since Melanie asked so nicely LOL
Here is our front porch, with Caleb and Samuel working on a pail of beans: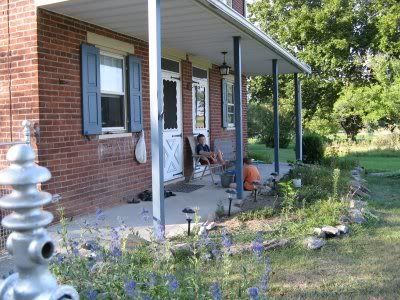 Here is our kitchen. It is eat in, long enough to fit our big table that seats 8. (notice that's not 9 or 10 - that's more because we don't have 10 chairs than that we can't fit 10 LOL)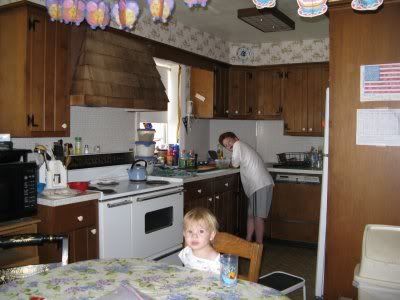 Here is the back room that we gave to the boys for their toy room. It is officially the family room, where we play games or read, and the boys have all their puzzles, games, legos, and toys. The walk in fireplace is cool. There is a wood stove in it that seems big enough to have had big kettles on. The room was originally detached from the back of the house, so I guess it was some sort of summer kitchen.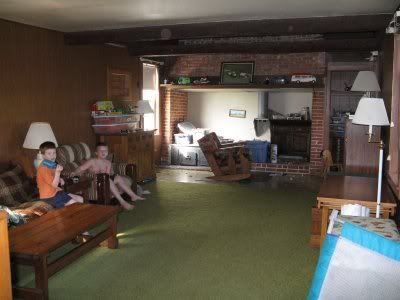 Now we get to the category "What Were They Thinking???" LOL
Our living room is papered with a mural:
Very rustic, bucolic. Appropriate, I guess, since it is a farm scene. But the other 3 walls have a paper that is like fake grass cloth lol.
Here is a really bad un-plan: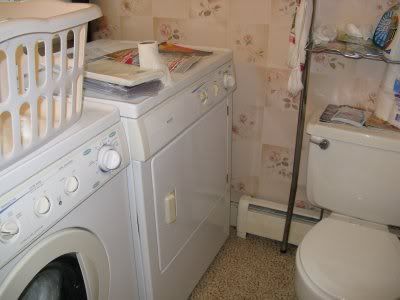 I'm pretty sure the toilet came after the dryer LOL Our plan is to move the toilet so I can actually get the dryer door all the way open.
Here is a pic of one of the two lovely lavender sinks in my upstairs bathroom. Why lavender? Not sure, since the paper is blue stripes, and the trim is painted turquoise. Oh, and the tub and toilet are mauve. Bleh! lol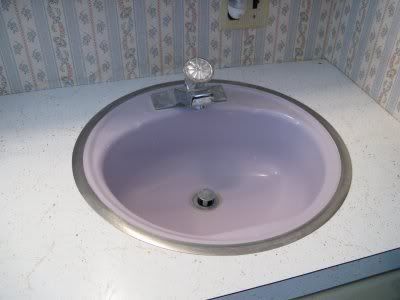 And the best for last, a little tropical vacation with every bath: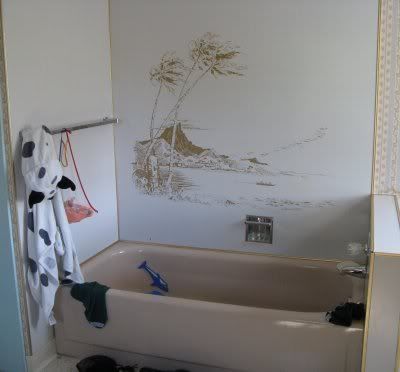 Why yes, that is a mural of Figi on the wall above the tub! Note that the material is not actually waterproof, so there is no reason at all to have that there. Other than atmosphere, of course LOL
As we do renovations and redecorate, I'll take pics - you know, when it looks better in here LOL