Jacob is 1 week old now. Just last week I was feeling surprised at how quickly and easily he was born. He's been home for 5 days and his brothers are quickly learning how he fits in our family. Chris has been home all week, helping keep them in line so I can recuperate more easily. Jacob is a snuggler, and sleeps best when cuddled up to me. He is still having a bit of trouble when it's time to fill his diaper, he cries quite a bit, but once he is done, he is sweet and happy again. My milk came in Saturday morning and he loves it! He had a doctor's appointment this morning just to make sure everything is going well, and the doctor said he looks perfect! He only weighs 8lb 10 oz, yet, so he hasn't regained his birth weight yet, but that is normal for my kids, they usually take 2 weeks to get there. At the rate he is eating, I think he will be over 9 lbs by next Thursday. I will take him back in to the dr just to check his weight then.
I wish I were better with a camera so you could get a better idea of what he really looks like, as it is I don't really have many pictures of him yet. Mostly because I am the one holding him! LOL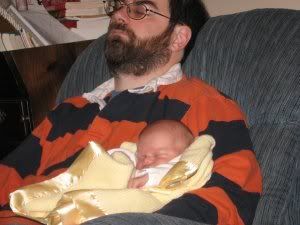 napping with Daddy
Today a friend from church came over to give all the boys haircuts. When she was here on Tuesday I mentioned that I had not been feeling up to it this month and that they were all lookinga little shaggy. She used to be a hairdresser at a salon, and offered to come back and do the cuts. Wow, that was such a great baby gift! They look really great now. They have never had professional cuts, I always cut their hair. I just take clippers and do a 1" cut all the way around, then trim the neck and ears. Noah is especially excited about his cut. He got it cut very short! He looks so blonde now.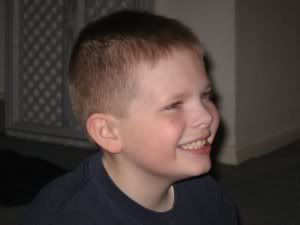 The only cut that didn't really turn out great was Levi's, and that's because at 2 years old, he just doesn't sit nicely for haircuts, LOL. We fed him cookies, but he was still a bit wiggly.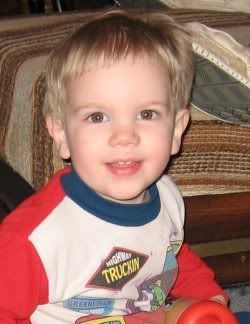 Caleb's turned out well, too: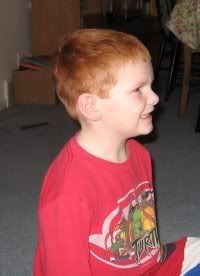 Here is a group shot; you can't really see the cuts well, but you can see that they aren't all shaggy anymore!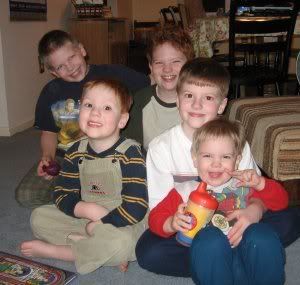 Troyer wanted to keep his longer than the others', but that means he will need to get a cut again that much sooner! Probably next month, sigh.