I had a busy weekend last week. My sister Aimee came to visit with her two kids, they stayed from Friday to Monday. Our birthday was Wednesday, so we figured we'd do something fun while she was here. We rented a bunch of "chick flicks" that our dhs would never sit through, and got lots of snacks. It was great! LOL We were disappointed by Drop Dead Gorgeous, it was much darker and less funny than we expected. I liked Miss Congeniality better (saw that one a while ago). We loved The Importance of Being Earnest, I think we will have to watch that one again, the kids kept interrupting and we missed some dialogue. We rented Osmosis Jones for the kids; I think it was more for older kids than the under 10 crowd we had here. I hope most of the referrences went over their heads! lol We also watched Win a Date With Tad Hamilton, which was ok, but I found kind of annoying. We almost got Love Actually and Laws of Attraction, I think we should have gone with those, lol.
On Saturday we all went to church together; it was the first time I took the baby in, and I was a little disappointed that more people didn't stop to say hi and take a peek at him. Oh well, that usually annoys me, lol. After church, Aimee and I took Levi and my niece and left early while Chris stayed with the other 6 boys to have lunch. Chris made the soup so he had to stay to serve it. He says it turned out really well, he didn't even burn it :-). We girls took a drive to go visit our sister Michelle, who was camping with her family at Raystown Lake. It is about an hour and 15 minute drive from my house, but since we left from the church I was going a different way, and missed a turn, so it ended up being almost 2 hours. Oops! lol Levi got hungry on the way, so we stopped at a McDonald's for a coke and directions, and Levi got a snack and a clean diaper. We finally reached the campground at 3. The weather was very warm in the car, but down at the lake it was beautiful, with just enough of a breeze to keep the bugs away. We stayed for dinner at the campsite, and left just after 7. I wanted to leave so that I'd have enough daylight left to find my way home. It was a much faster drive home, since I didn't get lost LOL.
The boys had a great time with their cousins, my nephew is a huge Bionicle fan along with my boys, so they were in heaven trading sets and building new stuff. My poor neice felt a little left out, as we have a shortage of girls here ;-). I had a beautiful Rapunzel Barbie for her, though. She loved that.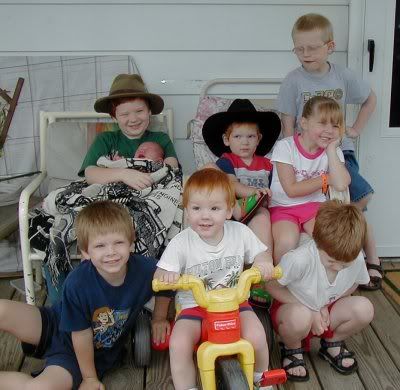 Here are the kids all together. Samuel was doing his best to get out of having his picture taken.
Monday was Chris' and my 12th anniversary. It's hard to believe it's been that long already. It doesn't feel like it! He got me flowers and a card, woo hoo! I love flowers, and I appreciate his getting them for me, especially because his philosophy about them is why spend the money when they will just die? But I like them, thank you. Unfortunately, Levi didn't cooperate with MY plans for our anniversary, for later that night :-( We're waiting for a raincheck on that LOL.