My oldest son turned 10 years old today! Wow I can't believe I have a child in the double digits already! I am just not old enough! ;-)
For his birthday today, he got to watch all the tv he wanted (he is a tv junkie, in spite of the fact that we only get 1 1/2 channels!). He watched the usual shows, but this time didn't have to bargain for them. His favorites are Arthur, Zaboomafoo, Between the Lions, and CyberChase. PBS just started showing George Shrinks in the afternoons, and he likes that one too. These are all kind of young shows for him, but we don't get Nickelodeon or Disney (I am *not* crying over that!) and these are semi-educational, so I am happy to let him watch them. Hey, he isn't picking Barney or Jay Jay or Caillou, LOL.
We had to go out shopping to get icing and cake supplies, because he chose to have a homemade cake instead of a bakery cake. All the other boys chose a bakery cake because they want the toys on top; Troyer designed his own cake and created the topper. We also had to pick up dough for pizza. I didn't have enough money to buy take out pizza (we went to McDonald's twice in the last 2 weeks, so bye bye money, lol), which he really wanted, but he was happy enough to have homemade. I also got some wrapping paper, and some milk. We got home in time for him to watch more tv, and I got to work on the cake.
I have to say, I think the cake turned out ok. I didn't have the right size decorating tool for writing, so I had to abbreviate and leave out his name, but he didn't mind. He made car forms out of clay, and saved foil wrappers from way back at Valentine's Day, lol, to wrap them in, and then drew up the Finish sign and taped it to straws. The roadway is chocolate sprinkles. Much tastier than black icing, if you ask me! All in all, it is certainly not a professional job, but he is soooo proud of it, and if he is happy then that is what counts :-)
I made 3 pizzas, because most of the kids will only eat plain cheese pizza, but Troyer wanted pineapple on his, and Chris likes pineapple and olives, and I like mushrooms. I decided to make some of each and make everyone happy. Yum!
The cake tasted even better than it looked, and then Chris had a surprise, he had stopped at DQ on the way home and gotten 2 Treatsa Pizzas. Double Yum! Of course by now no one was really that hungry any more, but there is always room for ice cream, lol.
Next Troyer got to open his presents. He had a theme this year, in that most of his gifts were Muppet stuff. He loves Kermit the Frog and The Muppets. He got The Muppet Movie on DVD (we have it on vhs but the dvd has all the extra interviews and stuff), a Muppet computer game, a Muppet beach towel, and a CD of Muppet songs from the tv show. He also got a Thomas DVD (yes, he still likes to watch Thomas the Tank Engine. This makes Micah very happy!) and some Ninja Turtle bubble bath. His aunt got him a stuffed lemur that looks a lot like Zaboomafoo, that was a big hit; and his other aunt got him a Bionicle, also a big hit.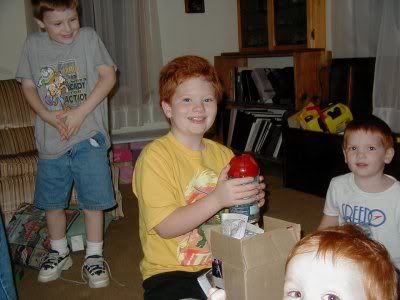 After all the gifts were opened, we listened to some of the songs on the CD and then it was bed time. Chris actually let me take a picture of him and Troyer together, and it turned out great! There are precious few pictures of Chris anywhere that don't have him making faces or trying to hide, lol.