The bathroom is done! Chris finished up painting the trim this week, and I (finally!) found some curtains for the window. It was tough trying to find some. I went out yesterday and had a hard time finding any curtains at all that weren't floor length drapes. But today I got lucky and found some with green in them. I wasn't sure the green would match the trim, but figured I'd take them home and see, I could always return them if I had to. Well, I am so happy, they match great! I have to say, to me they look more like kitchen curtains, and since I already have ivy in my kitchen, I am afraid of there being a little bit of ivy overkill in the house; but hey, that was the only pattern with green in it at all. (Well, ok, I skipped right over the all green curtains that were too frilly. Waaaay too much ruffle.)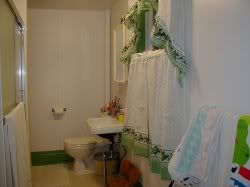 I decided to go ahead with a green stripe in the kitchen, and that is looking really good too. I am doing it in just acryllic paint, but it is a half inch wide stripe, so it doesn't matter. I think it helps make the two tone colored walls look like they are supposed to be that way. I will post a picture of that once the stripe is finished.
Chris power washed the deck yesterday and today. It looks really nice, except now it really should be sanded and sealed. I don't know if he is going to do that.
He also rented a storage unit in town today. Now we can start packing up stuff for real, because we have a place to hide it all. I have only been making sad little efforts at decluttering because I didn't want to have boxes sitting all over the house. I just knew the boys would get into them and unpack them for me, and lose stuff or break it.
The plan is for Chris to finish painting the stairs and hallway this weekend. I picked a very light yellow color, because the carpet is a dark rust color. I wanted something bright but there isn't much that goes with rust, lol. And we are NOT going to replace the carpets! I will post a picture of the hallway once that is done, too. That will leave us with just the living room and family room/play room to paint and declutter, and we will be ready! I am getting kind of excited. I suppose I'll get over that very quickly, as soon as I have to keep the house clean for showing. Ugh. LOL