First off, let me say, we had a great weekend here. The weather cooled off slightly, though it was still hot at church. I have to wear sneakers, even with skirts, now, to avoid too much swelling in my ankles, but that meant I couldn't secretly slip my shoes off while sitting in the pews, lol. I felt a little better once we went downstairs for lunch afterwards, it's much cooler in the basement. I took all the boys home and let Chris stay to talk to his friends. Usually it's me staying while he brings everyone home; I thought it would be nice to give him a turn :-)
Saturday evening I made strawberry shortcakes for dinner. I have been buying blueberries and strawberries with the intent of making them for several weeks now, but each time I get the berries washed, I'd eat them before I made the shortcakes, lol. Finally I was good and shared. I make simple drop cakes with Bisquick, and use Cool Whip. Yum yum.
On Sunday we spent the morning cleaning up the house. We were invited to dinner at a friend's house, but we weren't sure if it was going to rain. We had already had to reschedule twice because of rain, so we offered to have the dinner inside at our house if it rained again. They are building an addition on the back of their house, and the yard is pure mud when it rains. We got lucky, though, and the weather stayed warm and clear all day. Sometime just after lunch Chris noticed a swarm of bugs out in the yard. We watched them for a while as they floated over a bush and into our pine tree. Finally they seemed to settle down so we went out to investigate; it was a HUGE swarm of bees! Now we have a huge nest in the tree, the kind you see on tv with the bees just dripping off of it. I will be calling the exterminator soon!
Finally it was time to leave, and we headed out. The boys were very excited to be visiting this family; they have 5 children also, and are part of our homeschool group, so they get along well. As soon as we got there the boys changed into suits and jumped right in the pool. It was chilly because they don't have a pool heater, and the rain had kept the water cool, so it took us a while to get all the way in. Troyer and Noah had fun playing with all the pool gear, goggles and snorkles and such, and diving after the sinking toys. Samuel and Caleb were more cautious, since they haven't had swim lessons yet, and are not used to water over their heads. The pool was about 4 ft deep. Micah loved every second of it, and has no fear of the water at all. We had to keep a close eye on him because he kept climbing down the ladder and expecting someone to be there to catch him!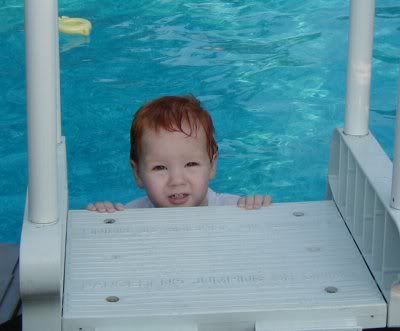 Troyer enjoyed showing off his floating skills that he learned at camp: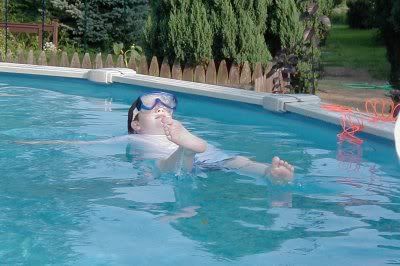 Poor Samuel had a scare; he was trying out the snorkel, and accidentally floated too far from the ladder, and when he noticed he panicked. He went under and ended up swallowing all the water that poured in the submerged snorkel. Chris grabbed him and pulled him up and put him out, but that was the end of his swimming for the day. It took him a while to relax again, but by the time dinner was ready, he was feeling better.
We had pizza and chips for dinner, the boys ate a lot! The fresh air and exersize must have been good for them, lol. After eating, our friends took us for a tractor ride around their property. They live on a family farm and it is a good size. They are not career farmers, but they own some sheep and a llama, and grow a few crops. Their property is beautiful. They don't really farm most of it, mostly they hunt on it during hunting season. We saw a porquipine and a few deer during our ride.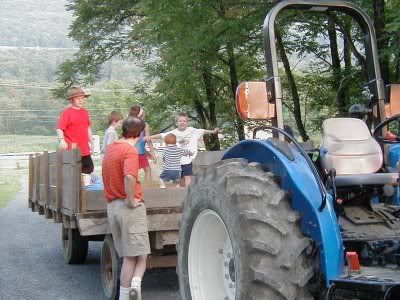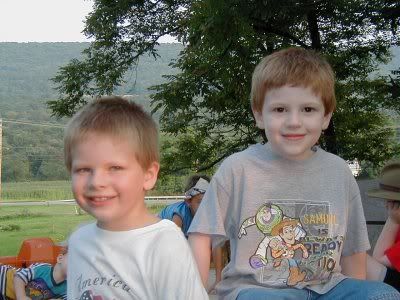 After we got back we all had some ice cream, and finally headed home well after bed time! Poor Caleb begged and begged to be able to stay over, and really we all had such a great time, we could understand! The boys fell asleep almost immediately when we got them into bed.
Ok, now for why I hate Mondays, LOL.
I was woken up super early to be asked if they could play computer games. Lucky for them Chris had said it was better to play in the morning while it was cool than later in the afternoon. Sometimes we have trouble with their computer shutting down if it gets too hot. But of course that meant arguments about who should play first and how long a turn they were getting blah blah blah lol. Micah came in later, soaking wet; his diaper had leaked AGAIN. Ugh. Of course he wasn't really interested in changing his clothes, so he put up a fight. Then I went down to make breakfast. There was the usual fighting over who got his bowl first, and who got to pour out the cereal first and why was I taking so long to pour the milk. Ugh. I also had to get a batch of bread dough started because we are completely out of bread. I was interrupted at least 4 times, and what should have taken 15 minutes took over 30. Then just before I could get the last ingredients into the mixer, Micah threw his bowl of cereal on the floor, spilling chocolate cereal and milk everywhere, including over himself. Just what I need at 37 weeks pg is to be on the floor wiping up soggy marshmallows and milk. It went everywhere, did I say that already? LOL
I did finally get the bread dough set and rising; but now the boys are fighting over legos, and woke Micah up from the nap I JUST put him down for. He won't fall asleep without me next to him now, so I lost a half hour laying in his room waiting for him to nod off; and now he's up again. UGH! LOL
Let's hope the second half of the day goes better, please!